When the Vans' Warped Tour rolls into Kansas City on Tuesday, the annual punk and skate fest will bring with it an unlikely addition: the heavy partyin' Andrew W.K.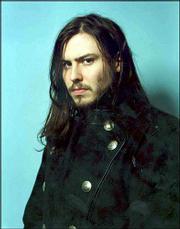 W.K. (short for Wilkes-Krier), is more of a hard rock performer than many of the pop-punk bands traditionally on the tour. Although the singer spent last summer with more kindred spirits on the OzzFest, he played five Warped dates toward the end of summer. Those five dates were the impetus for coming back for this year's teen-friendly tour.
"What I learned from those five is that it's a full-on, full-blown, really exciting day.," W.K. said in a recent phone interview from a New York recording studio. "Each day of the tour is going to be like that. So my expectations are to have each day be all the way and not be holding back."
Few would ever accuse W.K. of holding back. This, after all, is the guy who smashed his face with a brick for the cover of his debut album, "I Get Wet" -- a record tailor-made for partying, with blazing anthems like the hit-single "Party Hard" and "Party Till You Puke."
"I just want people to do what they want to do, and I really want them to do what they feel is right," W.K. said. "That's kind of what I'm saying when I'm talking about having a party. I'm talking about creating ... a really fun world that we can all exist in and an atmosphere that people can enjoy and do it all the way.
"And if someone looks at this music as drinking music -- and I'm not saying it isn't -- that's fine. It can be whatever you want it to be."
W.K. has a different, more light-hearted vibe than many of the bands on this year's tour -- different from the old-school punk of Rancid or the gut-wrenching emotion of The Used.
"We're just doing what we do, just like anybody else," said the Michigan native. "It's not there because it's different, and it's not there to be different. We're just doing what we know how to do and what we do best."
Past Event
Tuesday, June 24, 2003, noon
Capitol Federal Park @ Sandstone, 633 N. 130th St., Bonner Springs, KS
All ages / $25.75

'Maximizing the potential for good stuff'
In conversation, W.K. came across as genuine and gracious, but above all enthusiastic -- especially about the tour, which started Thursday in Boise, Idaho.
"We were so excited about it that we really just wanted to come back this year and try to do the whole thing," he said. "We had so much of a good time that we really wanted to focus on it this summer and make the most of the whole experience."
For someone so exuberant, Warped would seem a perfect venue for expressing that zeal. But W.K. views the upcoming tour as both an opportunity and a challenge.
"The best thing about Warped Tour and any package tour is the opportunity to play (for an audience) that wouldn't otherwise go to see you," he said. "There's nothing more exciting than winning people over, or showing something to people that didn't know about you or didn't even like you. I want to get people that hate this and make them like it."
The beauty of something like Warped, W.K. explained, lies in its organization. It's designed to let the performers really spend the entire day interacting with the crowd.
"What I'm looking to do is to try to maximize the potential for good stuff each day," he said. "Hanging out with people, meeting as many people in the audience as I can, and just being out there and being accessible."
Always changing
For the last few months, W.K. has been less accessible, commuting between New York and Los Angeles while recording his sophomore album (for which he claims to have more than 130 potential titles). He spends his days working on the project -- be it tracking, mixing or mastering -- from noon to around 7 a.m.
Despite his heavy, somewhat retro rock sound, W.K. made an unexpected choice when asked who he would most like to share a stage with.
"I would most like to tour opening for Sean Paul," he said, referencing the popular dancehall-reggae artist. "Something where the atmosphere is really about dancing and having fun, and you're not just standing there watching, but everybody's there with a very clear purpose."
More like this story on Lawrence.com