Perry — About 40 minutes beyond Lawrence, just outside Perry, sits Apple Valley Farm which, since the early 1970s, has been a staple of summer theater in the area.
New owners Jeff and Allison Blodig purchased the property last June and are in their second season of doing summer theater. The pair used to live in Lakeside Village, a nearby housing development, and had known about Apple Valley for years before they decided to buy it. The transition from suburban life to that of a theater/farm was a stark one, especially for Jeff, who has worked as a teacher and adjunct professor at Johnson County Community College.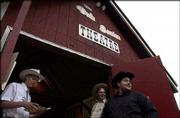 "We always thought of this as a retirement of sorts," Jeff Blodig says. "We thought we'd do this and just eventually quit our regular jobs."
Inside the Farmhouse Restaurant, they've repainted, added a wait station and new light fixtures and curtains. They've also renovated the old Grainery Saloon and installed air conditioning inside. They've even hired a cook for the summer, with an all-you-can-eat buffet before each show, featuring traditional homestyle foods like fried chicken, mashed potatoes and gravy, and homemade bread.
Just down the gravel road from the restaurant and saloon sits the Del Easton Theatre, a 200-seat barn theater named for a former Apple Valley director.
"Del Easton's the patriarch of barn theater," Blodig says. "He's the guru of outdoor melodrama."
Talented group
This summer, Apple Valley is hosting Hurl Bert's Players, a troupe of local actors led by director Dann Hurlbert. Each weekend, the troupe performs "Wild, Wild Western" and "Mounties, Mounties, Mounties," two melodramas by local theater legend Ric Averill.
Averill has a long history with Apple Valley, having not only written plays for them, but also having served as the farm's theatrical director for more than a decade.
Blodig says that when he went looking for a theatrical director for the summer, he wanted to get Averill back. Averill leads the Seem-To-Be Players of Lawrence and, though Blodig says he considered it, Averill ultimately was too busy to return.
"Everybody wants Ric Averill, and we were hoping to get him back," he says. "But I'm hoping Dann's the new Ric Averill somebody who's going to want to stay around here and make his name known."
Dann Hurlbert is a former South Dakota high school theater teacher who recently relocated to the Lawrence area. Last year, he worked with the Lawrence Arts Center doing an after-school theater program. Through his work with the arts center and Lawrence Community Theater, he found the actors he needed for the Apple Valley Farm program.
"This is a very talented group of young people," Hurlbert says. "They range from 30 all the way down to 19, and they're really great, both musically and dramatically."
'Riotous' shows
Both Hurlbert and Blodig acknowledge that this summer's crowds so far have been smaller than expected, but they say the shows are still fantastic, no matter the size of the crowd.
"The shows are going really well," Hurlbert says. "When we opened up the first show, it was great. The audiences laughed and laughed, but the audiences have been very small."
However, the audiences appear to be having a great time.
"The shows are riotous," Hurlbert continues. "The audience is participating and throwing lines back at the stage. It's hard sometimes for the actors to keep a straight face."
Hurlbert is leading Apple Valley Farm through its 33rd season of summer melodrama, and the farm's sense of tradition is not lost on the Blodigs, who have done extensive renovation to the quaint 60-acre property.
When the theater is not in session, the Blodigs also play host to parties, weddings, receptions and other gatherings. Last year they even kept the Saloon open through the Super Bowl.
They plan to eventually build a house on the back end of the property, where they now run an RV park and boat storage. All in all, it adds up to a lot of maintenance.
"We both love it," Blodig says, "but it's a lot of work."