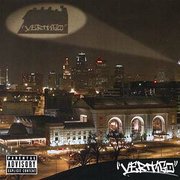 Beginning with one of the best intros I've ever heard, the new album by Vertigo makes you feel proud of Kansas City and the steady stream of music made by its resident artists.
This 16-track disc is a tight, energetic intro to Vertigo -- their life in the clubs and in the streets as they pursue millions through beats and rhymes. With featured guests including Incredible Zig, Laura Noble, Grant Rice, Kriss Kalico, and Tech N9ne (who shines on "KCMO") this album is definitely worth checking out.
The second track of the self-titled debut LP, "Drunk off in the Club," sets the mood for an album full of radio and club-ready joints. "Drunk off in the club man/ we ain't even trippin what them haters say/ ya'll could hate us man but we gone get it anyway/ cause we gone from the Henn dog and Alize/ off in the club."
The Dre-style "I Love Music" serves as unapologetic tribute not only to the tunes, but also to the industry itself, which they clearly want to climb. The production quality and musicality of this track (and most of the album) are testament to the sincerity of the name.
Vertigo's lyricists are consistently on-point. The syllable placement and attitude match the beats perfectly. Thankfully the album does not only contain rap lyricists. A solid group of singers lend their vocals to many choruses.
Great lyrics alone cannot make hits. Most of Vertigo's tracks are backed by the powerful and seemingly flawless production of Surgeon General. Considered one of the area's most sought-after beatmakers, S.G. is joined by fellow Vertigo members Ground Zero and Curv, who should all be recognized as talented producers.
With their musical prowess solidified, Vertigo is ready to get down with all those that want to be down. As heard in "Borracho," they're "representing Latinos and mad Gringos who've got beef with wack cats and wack tracks and wack flows." Vertigo thankfully does not contain any of the aforementioned negative traits.
As for the album's flaws: if you're looking for an education with your music, you should look elsewhere. This is strictly a party album.
More like this story on Lawrence.com