Last week, Electronic Arts announced Medal of Honor: Rising Sun for the PS2, Xbox and Gamecube. There will be no PC version.
Medal of Honor: Rising Sun will take players through the 1941-1944 Pacific Theater of Operations campaign during WWII. As the hero Joe Griffin, the player will attempt to rescue his brother from a Japanese POW camp in the post-Pearl Harbor wartime. It will be a two-chapter series. MOH: Rising Sun will be released this fall, with the second chapter being released in the fall of 2004.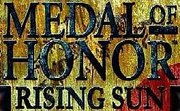 As usual EA will seek direction from U.S. military sources to make the events and locales as accurate as possible.
PC fans of Medal of Honor: Allied Assault will be happy to know that another game, Medal of Honor: Pacific Assault was announced yesterday to be released in January of 2004 on the PC.
More like this story on Lawrence.com