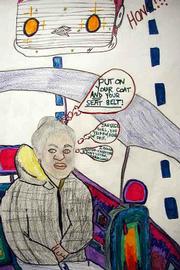 One day, a middle-aged woman looks in the mirror and notices her wrinkles. "You look so old," she thinks. So she decides to draw herself, complete with the creases and lines of age.
As she sketches the self-portrait, familiar voices begin to drone in her head. "God, you're lousy," they taunt. "You're wasting your time."
But she fights through the cacophony -- the medication helps -- and finishes the drawing.
Now it's hanging in an exhibit at the Lawrence Public Library, 707 Vt. The artist is Betty Visser, a Lawrence woman who's been drawing and painting since she was 3 years old. She's had schizophrenia and bouts of depression since she was 19.
Her description of the creative process seems anything but aerodynamic. Not only does she experience the fear any artist grapples with when putting personal work on paper and then in view of the public eye, but she also feels the drag of the voices -- telltale postmarks of schizophrenia -- which are rarely encouraging.
Despite what seems an uphill battle, Visser, 51, says creating art is what keeps her going.
"It IS my life," she says. "I would have nothing without it."
Work by Visser and a handful of other artists who have struggled with mental illness is on display through March 27 in the library's gallery. The show is called "Sea of Visions: A Mental Health Consumer Art Exhibit," and it offers a glimpse inside the minds of people who, in most cases, have been disabled for at least two years and whose ability to work, care for themselves, and form and maintain relationships is limited.
The artists are all clients at the Bert Nash Community Mental Health Center. Diane Hachmeister, a case worker at the center, helped coordinate the show.
"I think the work has a special energy a lot of trained artists don't have," she says. "I just think this work is wonderful. It's one way to bring people in to learn about mental illness ... to hopefully take some of the fear out of it."
Friendly voices
Visser recently began making art again. For 15 or 20 years, she was too ill to work. The last five of those years, her medication made her hands so shaky she couldn't even hold a pencil. But her new medication has leveled her out a bit more.
"I'm drawing again, and it means everything to me," says Visser, who's formally trained in art and has a degree in fine arts from the University of Iowa. "Whenever I'm home, I'm drawing all day long."
Preston Fine, another artist in the library exhibit, finds less time than he'd like to create his art. Between his job and classes at Johnson County Community College, the Eudora artist manages to squeeze in painting on Friday nights and Sunday evenings.
Like Visser, Fine has schizophrenia. But the voices in his head seem content with his art.
"Some of them are actually good," he says of the voices. "We have fun together. That time for me is more entertainment. It's the rest of the time that actually isn't very good."
That light-heartedness comes through in Fine's paintings. Bright colors swirl together as if a whimsical wind is blowing them across the canvas. Looking at the progression of his work from five years ago to now, Fine says, is like witnessing the stages of his illness.
"Five years ago, I could not paint that well," says Fine, whose schizophrenia was diagnosed in early 1996. "It was erratic; it was sloppy; and the subject wasn't good. Over the years, there's been a nice transition where it keeps getting better and better.
"Usually, art has big meaning. Mine does, I suppose, in the sense of metamorphosis and osmosis. It's really about color and shape and composition. It's something pleasant that I want to show."
'A way out'
Susan Greenberg's acrylics on canvas are about finding light in tunnels. The 31-year-old Lawrence artist struggles with depression and recently learned she has bipolar disorder.
The three paintings she chose for the library exhibit are influenced by cubism. She creates architectural forms with lots of doors, windows and openings.
"I like the idea of seeing something and being able to see through spaces," she says. "Illness can be really confining and restricting. I like a lot of doorways. It gives me, mentally, a way to get out."
Greenberg started making art when she was a student at Lawrence High School. She got a degree from Columbus College of Art & Design in Columbus, Ohio, and makes art whenever her moods allow.
"A lot of times, it (depression) will keep me from working," she says. "You want to be able to do what you love, and you can't."
But when she's able, going through the creative process is therapeutic.
"It's almost like getting it out of your system, at least for a little while," she says. "To get that out on paper is really cathartic."
What: "Sea of Visions: A Mental Health Consumer Art Exhibit."Where: Lawrence Public Library gallery, 707 VermontWhen: Through March 27. Mon - Fri, 9-9 / Sat. 9-6 / Sun. 2-6More info: 785-843-3833
Artist statements posted next to the art work in the exhibit tell the creators' stories. Tales of recovery from other Bert Nash clients are hanging with the show as well. A woman who identifies herself as Kenda, a poet, says this about her writing: "I use poetry to discover more about my journey of recovery."
On March 3, 2001, she wrote:
"I choose to think well,
Mask my mutilating hell.
I look for a future of free.
I'll fake till you make a new me."
By January of this year, Kenda's outlook was rosier:
"'I'm Gonna Build a Mountain'
Out of the dust I was becoming.
As for being frightened by everyday weather,
'I'm Singing in the Rain' of recovery."
Fine, who helped Hachmeister organize the show, says he has been surprised that, overall, the work is positive.
"Having a mental disorder myself, it's hard because inside usually things are pretty bad," Fine said. "I was expecting to see more of that, but over all, it was basically a pretty picture that they were actually pulling out of themselves in showing the world that they're still OK."
More like this story on Lawrence.com