Los Angeles — Crime paid at the Screen Actors Guild Awards on Sunday, as the musical "Chicago" and lead actress Renee Zellweger proved that a murderess can become a celebrity, and Daniel Day-Lewis won for playing a vicious 19th-century thug in "Gangs of New York."
"Chicago" collected the ensemble cast award, the guild's equivalent of a best picture prize.
"From day one, we were a family," said Richard Gere, who lost in the lead actor class, but made the acceptance speech on behalf of his castmates. "There was such love in this production."
Zellweger said she was astounded to win her award over the likes of her competitors, which included Nicole Kidman for "The Hours" and Julianne Moore for "Far From Heaven."
"When you start out, you kind of hope that you'll get enough work so you don't have to schlep the longnecks anymore," she said, referring to her stint as a waitress.
"But I never imagined that I would be standing here tonight in such esteemed company."
Day-Lewis, who reportedly was coaxed reluctantly into his "Gangs" role by director Martin Scorsese, said in his acceptance speech that as a theater actor he dreamed of starring in movies.
"There weren't many actors getting a chance to do this, but I wanted to ... make a contribution to this tradition," he said. "And I'm so grateful that I've been allowed the chance to do that."
"Chicago" co-star Catherine Zeta-Jones claimed the supporting actress award for playing a jazz-singing murderess whose fame has waned, and Christopher Walken won for playing the father of a con artist in "Catch Me If You Can."
Walken thanked the audience of mainly actors for honoring his work. "I love all of us. We are family, and I hope we all work together soon," Walken said.
All the film winners are also nominated at the Academy Awards, set for March 23.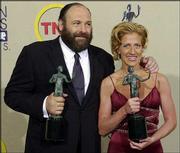 The Screen Actors Guild Awards is the last of Hollywood's major self-congratulatory events before the Oscars, where "Chicago" also leads nominees with 13 bids, including best picture.
Nominations are chosen by 4,200 randomly selected members of the union. The guild's full membership of 98,000 was eligible to vote for final winners.
James Gandolfini and Edie Falco won their second guild awards for their starring roles in HBO's popular gangster drama "The Sopranos," after previously winning dramatic TV performance honors in 2000. However, the show lost the TV dramatic ensemble prize to HBO's "Six Feet Under," a show about a California family and their funeral home.
The TV comedy ensemble winner was CBS' "Everybody Loves Raymond." For a second consecutive year, TV comedy performer trophies went to co-stars Megan Mullally and Sean Hayes of NBC's "Will & Grace."
The program for the show, televised live on TNT, also featured a lifetime achievement award for Clint Eastwood, who made his breakthrough on the 1959 TV series "Rawhide" and became a film star playing mysterious gunslingers in Westerns such as "The Good, the Bad and the Ugly," (1966) and the rogue cop in the "Dirty Harry" movies.