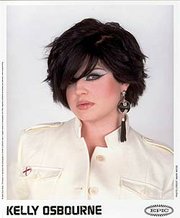 There is probably no family more recognizable in America right now than the Osbournes.
Since coming to MTV last year in the popular half-hour reality show "The Osbournes," this foul-mouthed but cohesive household -- led by "Prince of Darkness" Ozzy, his cutthroat manager/wife Sharon, their doughy entrepreneurial son Jack and bubbly (sometimes bratty) daughter Kelly -- has rivaled the fame of the Kennedys.
Now Kelly is following in her infamous father's footsteps by launching a singing career, album and tour. With the release of her debut album "Shut Up," featuring the hit title track and a cover of Madonna's "Papa Don't Preach," the 18-year-old is proving that music really is in her blood ... as are the industry connections to see her fulfill this calling.
Phoning from her home in Los Angeles, the diva of the ever-changing hairstyle is gearing up for her first tour where she isn't just a passenger. The second stop on this month-long odyssey brings her quintet to Lawrence's Granada.
"I don't really know what people expect of me, to be honest with you, because this is my first time solo," Osbourne says. "It's just me and my band performing my songs live."
Is she nervous? Sure.
Slightly overwhelmed by it all? Probably.
Likely to pack the venue with the most wide-ranging audience demographic one will ever see? Definitely.
Q :: Will MTV be taping your concert tour as part of "The Osbournes?"
Jon Niccum talks with Kelly Osbourne, 03.07.03
"They're actually done filming right now."
Does that make you sad?
"No. I've had a camera in my face every day for two-and-a-half years. I'm ready for a break."
What's the best advice you've received from Ozzy about playing music?
"He always says, 'If it's not fun, you shouldn't be doing it.' He gives me all this advice about breathing techniques and what to do if something goes wrong. It's really sweet."
Have you applied any of that advice?
"No!"
So you're ignoring your dad?
"Of course. (laughs)"
You've been on numerous tours with Ozzy, but how different is it when you're the actual performer?
"It's very weird. I never thought that I'd ever have the chance to do it. I'm just so excited. I've spent my whole entire life on the road with my father, being on the tour, watching him and wondering what
it's like. Now it's me experiencing it."
Have you ever bitten the head off of anything?
"That's a stupid question. A gummi bear, how's that?"
How would you describe your fanbase?
"I don't know. That's more of a question you'd have to ask a fan because I don't know what they think of me. It's weird because my fans range from 2 year olds to 90 year olds. It's really cool, actually. I did an in-store in L.A. a couple months ago, and I had grandmas waiting in line for like five hours to meet me - then 2-year-old girls also. It was the weirdest thing. I expected it to be like really little girls or really gay men who liked me, but it's everyone."
What line from one of your songs do people ask you the most about?
"The 'blah, blah, blah' one (from 'Shut Up'). It's so annoying. And that was just something we put in there because I couldn't think of anything else to say. So people will walk up to me, and they'll be like, 'Shut up' or 'blah, blah, blah.' And I'm like, 'You're really not funny.'"
Does it bother you that the second season's ratings of "The Osbournes" have declined so sharply?
"The thing is, the ratings haven't declined at all. You know how MTV repeats a lot of things? The repeats get more ratings than the actual show. More people watch the show in the second season than they did the first because they just watch the repeats. If you add all the ratings up, it's like twice as many people."
What bands have you been listening to lately?
"I don't really listen to stuff from today because I think it's all very fabricated. I listen to a lot of older stuff, like Joan Jett, Pat Benatar, Patti Smith, Blondie."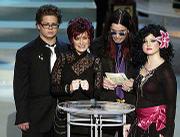 What is the worst show you've played so far?
"I did two shows at the Roxy. The first one was so perfect; it couldn't have been any better. And the second one wasn't very good. I forgot the words to one of the songs in the middle of it, so I just
stopped singing. Then I started laughing for like 10 minutes, and it made me look like an idiot."
But when you forget the words you can just insert 'blah, blah blah,' right?
"No. (laughs)"
Is Jack jealous of your success?
"I don't think so. But he's so stupid. He's like, 'Oh you and your stupid "singing career."' But that's just because he's my brother."
What do you come back with when he says that?
"Fuck off."