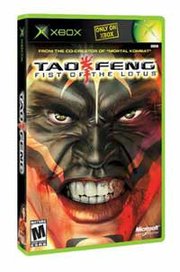 John Tobias, co-creator of the Mortal Kombat franchise, recently broke his gaming relationship with Ed Boon in 2000 to make a new breed of fighting game with his company Studio Gigante. Tao Feng: Fist of the Lotus is set to hit Microsoft's Xbox on March 18.
Tao Feng is the first fighting game to implement limb damage in real time. If you get hit in the forearm, you will see damage on your forearm. If you get kicked in the shin repeatedly, your bone will actually break, making the character hobble around to finish the fight.
With plenty of interactive environments, fighting styles, breaking bones and real time clothing effects, Tao Feng is guaranteed to be eye candy at the very least.
Tao Feng is rated "M" for mature and will hit the shelves with an MSRP of $49.99.
More like this story on Lawrence.com