Political events may have postponed the Academy Awards in the past, but America's inevitable descent into war will not affect this year's show.
Despite a few security precautions curbing the red carpet arrival of the $5,000-dress celebs, organizers swear Hollywood's premier premiere will go according to plan. That's great news for the many who, like me, enjoy escaping the crush of current events by crawling into the celluloid worlds of others.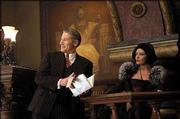 Unfortunately, this does not mean that the anti- and pro-war speeches will be restrained during Sunday evening's telecast. Actors such as Richard Gere and Tim Robbins must be giddy with anticipation at the size of the platform from which they can spout their loopy views -- provided they're not pre-empted by shots of Tomahawks leveling Baghdad.
But enough about politics. Let's talk movies.
While many assume "Chicago" will be notching more victories than the 1985 Bears, there are still plenty of opportunities for upsets. Big question marks loom in four of the six major categories. Best Actor and Actress don't even sport a clear front-runner.
There's simply no excuse for not filling out a predictions ballot and playing along with the drama at home -- especially considering all movies up for the "big six" awards were showcased in Lawrence theaters during the course of the year.
Roundtable Predictions for Oscars, 2003Jon Niccum, Lawrence Journal-WorldLoey Lockerby, KC StarShawn Edwards, Fox 4John Tibbets, KU Film Professor
So here's a prediction: A lot more people will be watching the Oscars this weekend than CNN.

ACTOR
Welcome to a contest filled with heavy hitters.
Nicolas Cage gives his best outing in years since witnessing his career taper off into Michael Bay-area nonsense. His dual chore playing twin screenwriters in "Adaptation" is so fluid that it becomes easy to think of them as separate individuals.
Equally good is Michael Caine, who leaves an indelible impression in "The Quiet American" as a world-weary British journalist in Vietnam in the 1950s. Caine is so prolific that he often appears in more films than he probably should, but occasionally happens upon a role like this one that shows his indisputable ability. However, the movie is such an unflattering depiction of America's covert imperialism that it will likely fall victim to the shadow of world events hanging over voters' heads.
On the flip side of this political spectrum stands "The Pianist" with its World War II tale of survival under fascist oppression. The lone actor in this category who hasn't already won an Oscar is lead Adrien Brody, whose harrowing performance could emerge as the real upset of the evening.
There is nothing preventing these three actors from potential wins, other than they must face Jack Nicholson ("About Schmidt") and Daniel Day-Lewis ("Gangs of New York").
For the first time since entering the AARP demographic, the 65-year-old Nicholson plays a character his own age. (His retired insurance man Warren Schmidt has no rendezvous with someone comparable to, say, Lara Flynn Boyle.) And the actor actually portrays a Kansas University graduate -- even though most of the scenes showing the return to Schmidt's alma mater were filmed on the University of Nebraska's ugly red campus.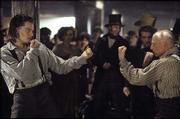 Still, Nicholson's main competition in the race proves just a notch better.
Day-Lewis is the singular element that makes the disjointed "Gangs" enjoyable. No actor sank more energy into a part this year. His rogue Bill "The Butcher" Cutting might occasionally be over-the-top, but he is never boring.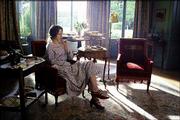 At our annual Kansas City Film Critics Circle vote, the 17 Best Actor ballots were split 9 to 8 in favor of Day-Lewis over Nicholson. Although it's not exactly comparable to the Academy, I'm banking the Oscars will reflect a similar outcome.
Best Actor (55 percent certain): Daniel Day-Lewis for "Gangs of New York."

ACTRESS
Four actresses have a shot in this hard-to-predict category.
"Frida" star Salma Hayek earned props among peers for launching her dream project about the life of artist Frida Kahlo. But the nomination is reward enough.
Julianne Moore demonstrates her formidable talent in "Far From Heaven" (a film that is the most egregious omission in the Best Picture lot). It's a tough gig interpreting a repressed 1950s housewife who has to appear completely at ease in the time period but also display a contemporary emotional arc. Unfortunately, she's also nominated in "The Hours" for rendering a variation on the same character, set in the same era. The tandem inclusion doesn't help exemplify Moore's range.
Until last week, "Chicago" diva Renee Zellweger was considered a long shot. Then she picked up a Screen Actors Guild prize. Considering the acting branch represents a majority among Academy voters, that selection is not so easily dismissed.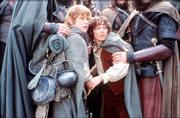 However, the final two nominees remain the ones to beat.
I still believe Diane Lane left the most memorable impression as the adulterous wife in "Unfaithful." As I wrote in my Journal-World review last May, "Lane herself is something of a revelation. Down to earth but erotic, fiercely intelligent but morally conflicted, she delivers a devastating performance -- one that could possibly land her an Oscar nomination next February."
Yet, Lane is going to be edged out by Nicole Kidman. As boring and socially preposterous as "The Hours" is, the Australian actress still managed to hold my interest whenever she appeared. As doomed writer Virginia Woolf, she actually has less screen time than co-stars Moore and Meryl Streep, but she dominates the movie.
Best Actress (45 percent certain): Nicole Kidman for "The Hours."
SUPPORTING ACTOR
There are fine actors in this category, but some are a tad overmatched in their respective roles. John C. Reilly, the reliable schlep with the Jinx the Cat voice, makes an appearance in an astonishing three of the five Best Picture nominees ("Gangs of New York," "The Hours" and "Chicago," for which he received his lone nomination). But his musical "Mister Cellophane" is too slight to be considered award-worthy.
Walken is terrific as a conniving father in "Catch Me If You Can," as is Paul Newman as an aging Irish mobster in "Road to Perdition." But both have collected Oscars before, and there is little sentiment for them prevailing in the supporting category.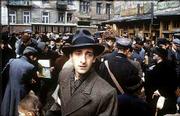 As the AIDS-afflicted poet of "The Hours," Ed Harris provides a portrayal of sterile mediocrity. (Not a surprise coming from a film that views men as irrelevant.) This is easily the contest's weakest nomination -- even worse than the original screenplay nod for the thematically addled "Gangs of New York."
Thus it's Chris Cooper's year. Straying from the laconic but simmering characters he often inhabits (the colonel with issues in "American Beauty," for instance), the actor proves the definition of "colorful" in "Adaptation." Embodying an Everglades swamp rat who poaches orchids for a living, he presents one of the least stereotypical portrayals of white trash in screen history.
Most importantly, Cooper is from Kansas City, Mo. And even though he graduated from the University of Missouri, I still must give it up for the homeboy.
Best Supporting Actor (70 percent certain): Chris Cooper for "Adaptation."

SUPPORTING ACTRESS
Animated Feature Film"SPIRITED AWAY"Art Direction"GANGS OF NEW YORK"Cinematography"ROAD TO PERDITION"Costume Design"GANGS OF NEW YORK"Documentary Feature"BOWLING FOR COLUMBINE"Documentary Short Subject"THE COLLECTOR OF BEDFORD STREET"Film Editing"CHICAGO"Foreign Language Film"HERO" (China)Makeup"FRIDA"Music (Score)"FAR FROM HEAVEN"Music (Song)"LOSE YOURSELF" from "8 Mile"Short Film (Animated)"MT. HEAD"Short Film (Live Action)"JOHNNY FLYNTON"Sound"THE LORD OF THE RINGS: THE TWO TOWERS"Sound Editing"THE LORD OF THE RINGS: THE TWO TOWERS"Visual Effects"THE LORD OF THE RINGS: THE TWO TOWERS"Writing (Adapted Screenplay)"ADAPTATION"Writing (Original Screenplay)"TALK TO HER"
It's somewhat unfair Catherine Zeta-Jones is part of this group, considering her fatale flapper in "Chicago" is truly a leading performance. This pretty much eliminates screen pal Queen Latifah from contention, since the singer's "Chicago" role is pure support.
Meryl Streep's portrayal of author Susan Orlean in "Adaptation" is fine, quality work. But there's nothing about it that will sway voters hoping to be dazzled by dramatic bells and whistles.
Kathy Bates injects some much needed oomph into the glacial "About Schmidt." She certainly can boast the most unforgettable nude scene for her hot tub dalliance with Nicholson. Her main drawback is she previously won an Oscar for 1990's "Misery." (I've already discussed Julianne Moore's reasons for tanking.)
Zeta-Jones looks like a life-long resident of "Chicago." She sings, dances, shows emotional vulnerability and scheming toughness -- a flashy gambit from the Welsh actress not normally known for her range. Plus, there are all those possible photo ops of her holding the statuette next to the one possessed by husband Michael Douglas.
Best Supporting Actress (85 percent certain): Catherine Zeta-Jones for "Chicago."

DIRECTOR
Yes, it would be interesting to watch what might transpire if convicted sexual fugitive Roman Polanski won for "The Pianist." Sure, it would be nifty to see Pedro Almodóvar, the Spaniard responsible for the ingenious "Talk to Her," be rewarded for his tricky love story about coma victims. No, it would be ridiculous for Martin Scorsese to win for a problematic picture like "Gangs of New York," considering he lost out when up for superior works such as "Taxi Driver" or "Goodfellas." (Thankfully, fifth wheel Stephen Daldry doesn't have a prayer for his handling of the hypnotically awful "The Hours.")
Since taking home the Directors Guild Award a few weeks back, "Chicago" boss Rob Marshall stands as the front-runner. The directorial category matches up far more often than not with what eventually wins Best Picture, anyway.
Last year I went out on a limb and predicted venerable Robert Altman ("Gosford Park") would prevail over Ron Howard ("A Beautiful Mind") based on the sentimental vote.
D'oh. There IS NO sentimentality in Hollywood.
Best Director (90 percent certain): Rob Marshall for "Chicago."

PICTURE
This will not be the night "Chicago" died.
"Gangs of New York" and "The Hours" are simply too divisive among voters to mount enough support for being granted the pinnacle honor. An equal number of people hated these aggravating efforts as much as appreciated them.
"The Lord of the Rings: The Two Towers" is still plagued by the "wait and see" factor. Audiences won't waste a major award on the movie until they've caught the final installment of the trilogy when it comes out in December.
Given the rare occurrence that the moon is in the seventh house and Jupiter aligns with Mars, "The Pianist" is the only other nominee that stands a chance. This Holocaust endeavor inspires great loyalty from its viewers, and there is nothing controversial about the movie itself -- other than the private legal troubles of its director. Regardless, it remains a distant second.
Last year's "Moulin Rouge" really warmed up audiences to the idea of a musical renaissance hailing from Hollywood. The lively, well-paced and entertaining "Chicago" will be the first to reap the benefits of that melodious groundwork.
Best Picture (99 percent certain): "Chicago."