Los Angeles — The razzle-dazzle musical satire "Chicago" won the Academy Award as best picture Sunday, while top acting honors struck a more somber note: Adrien Brody as a Holocaust survivor in "The Pianist" and Nicole Kidman as suicidal novelist Virginia Woolf in "The Hours."
In a ceremony overshadowed by the U.S.-led war in Iraq, "Chicago" became the first musical since 1968's "Oliver!" to win the top Oscar and also took home the most trophies, six. Its other awards were supporting actress for Catherine Zeta-Jones, and four technical honors including costume design and art direction.
Veteran character actor Chris Cooper won as best supporting actor for his role as scraggly- haired, toothless horticultural poacher in "Adaptation."
Brody's victory was something of a surprise, as was the awarding of the best-director Oscar to Roman Polanski, also for "The Pianist." Polanski has been an exile from the United States since 1978 to avoid sentencing for having sex with a 13-year-old girl.
"Chicago" came in with a leading 13 nominations, followed by the crime epic "Gangs of New York" with 10, but "Gangs" was shut out in every category.
"Chicago" was adapted from the Bob Fosse stage hit about two Jazz Age murderesses using their jailhouse celebrity to further their singing careers.
Once a Hollywood staple, musicals hit a critical peak 40 years ago with best-picture Oscar winners that included "West Side Story," "My Fair Lady" and "The Sound of Music." Musicals gradually fell out of favor since the late 1960s as moviegoers grew more sophisticated and studios became convinced that audiences would no longer abide characters who burst into song.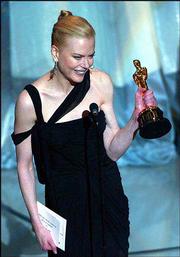 "Moulin Rouge," a best-picture nominee a year ago, whetted the public's appetite for musicals, and "Chicago" has packed theaters.
Brody played the title character in "The Pianist," based on the real-life story of musician Wladyslaw Szpilman, a Polish Jew who lived through World War II by hiding from the Nazis in the Warsaw ghetto.
"My experience making this film made me very aware of the sadness and the dehumanization of people in times of war, and the repercussions of war. And whether you believe in God or Allah, may he watch over you, and let's pray for a peaceful and swift resolution," Brody said, fighting back tears and drawing a standing ovation.
Her Oscar win was a Hollywood ending for Kidman after a turbulent couple of years. She had a miscarriage in 2001 and broke up with husband Tom Cruise, in whose shadow she had lingered throughout their 11-year relationship.
Kidman emerged as a big star in her own right later that year with "Moulin Rouge," which earned her a best-actress Oscar nomination, and the horror hit "The Others." In "The Hours," Kidman played suicidal author Virginia Woolf.
"Why do you come to the Academy Awards when the world is in such turmoil," Kidman said. "Because art is important. And because you believe in what you do and you want to honor that, and it is a tradition that needs to be upheld."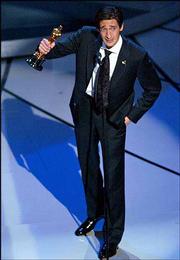 Cooper, a veteran character actor whose credits include "American Beauty" and "Lone Star," played a man on a mission to preserve rare orchids in the film loosely based on author Susan Orlean's "The Orchid Thief." "In light of all the troubles in this world, I wish us all peace," Cooper said as he received his award.
Glamour was in no short supply, although planners scrapped the red-carpet arrival festivities.
"Well, I'm glad they cut back on the glitz," host Steve Martin quipped at the show's start. "You probably noticed there was no fancy red carpet tonight. That'll send them a message."
After a few initial references to the war and its effects on the Oscars, Martin's opening monologue stuck to mocking nominees, other celebrities and Hollywood at large.
On Oscar's 75th anniversary, past winners of acting awards were honored. Peter O'Toole, star of "Lawrence of Arabia," was honored with a lifetime-achievement Oscar.
Picture: "Chicago."Director: Roman Polanksi, "The Pianist."Actor: Adrien Brody, "The Pianist."Actress: Nicole Kidman, "The Hours."Supporting Actor: Chris Cooper, "Adaptation."Supporting Actress: Catherine Zeta-Jones, "Chicago."Adapted Screenplay: "The Pianist," Ronald Harwood.Animated Feature: "Spirited Away."Animated Short Film: "The ChubbChubbs!"Art Direction: "Chicago."Cinematography: "Road to Perdition."Costume: "Chicago."Documentary Feature: "Bowling for Columbine."Documentary (short subject): "Twin Towers."Film Editing: "Chicago."Foreign Language Film: "Nowhere in Africa," Germany.Makeup: "Frida."Original Score: "Frida."Original Screenplay: "Talk to Her," Pedro Almodovar.Original Song: "Lose Yourself" from "8 Mile"Sound: "Chicago."Sound Editing: "The Lord of the Rings: The Two Towers."Visual Effects: "The Lord of the Rings: The Two Towers."Honorary Award: Peter O'Toole.