New York — ABC News offers the latest example of how the reputations of television news organizations can rise or fall in the time it takes to flick a remote control.
The network responded slowly at the outset of the year's two biggest stories -- the outbreak of war in Iraq and the space shuttle explosion -- and compounded it with a technical goof that left local stations scrambling to fill dead air in the war's opening hours.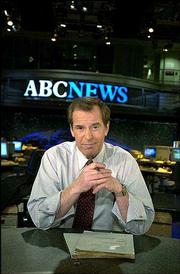 Both nights, viewers swiftly turned elsewhere for news, and questions linger whether that will have long-term repercussions.
"For the viewer that's looking for breaking news coverage and has trusted ABC over the years, they start asking themselves if that's the right decision," said Bruce Baker, executive vice president of Cox Television and head of ABC's affiliate relations board.
"I think there is some damage and it's going to take awhile to overcome that damage," said Baker, whose company owns ABC stations in Charlotte, N.C., Atlanta and Orlando, Fla.
ABC News has acknowledged the mistakes and said it had already made changes to prevent a recurrence.
On both big news days, ABC was a distant third in the ratings behind NBC and CBS. Usually, news viewers tune to broadcast special reports in about the same ratio as they watch the evening news, where ABC is a close second to NBC.
Apparently, a lot of people tried ABC those days and found it wanting.
The wartime problems were baffling to Baker, particularly since two days earlier the network aired a well-received prime-time special setting the stage for war. But he is pleased with the quality of coverage since.
"The irony is that I think we were better prepared than anybody to cover the war," ABC News spokesman Jeffrey Schneider said. "We think our preparation has been borne out in our ongoing coverage of this war, which has been nothing short of excellent."
More like this story on Lawrence.com