Havana — It's hot and muggy in the dance studio at Cuba's National Ballet, but the aspiring ballerinas don't seem to notice as they twirl and execute their moves to the piano music with scrupulous precision.
Only a few of these dancers will be chosen to be the next Sleeping Beauty or Cinderella at Havana's elegant Gran Teatro. But all remain hopeful, keeping up their daily ballet classes and rehearsals.
"My childhood dream was to be a ballerina, like any Cuban girl," says 26-year-old Viengsay Valdes, her hands on the barre.
After slipping into her first ballet slippers at age 9, Valdes went on to become one of the few top ballet dancers in a country where the masses, not the elite, are the true classical dance aficionados and the ballet company is among the best in the world.
As Valdes leaves the studio, dozens of girls between 5 and 8 years old file into the room in their colorful leotards, forming lines to await their first ballet steps -- and their first taste of the discipline that classical dance requires.
"In Cuba, dancing is so important because it is part of our culture," Valdes says, referring to the island's mix of African and Spanish roots.
Funded by the island's communist-run government, Cuba's classical dance program is world-class, training dancers for a company that has performed in 58 countries and received about 300 international awards.
Founded by Cuban's living ballet legend, Alicia Alonso, in 1948, the National Ballet of Cuba has managed to forge its own style out of old Russian and Western techniques.
Alonso, an 82-year-old former prima ballerina who was a principal dancer with American Ballet Theater and the New York City Ballet, retains a strong grip over the company, even though she now has trouble moving and can barely see.
A familiar figure with her proud, turban-wrapped head and wide mouth, Alonso erected Cuba's classical dance program from the ground, training several generations of dancers highly sought by some of the world's best ballet companies.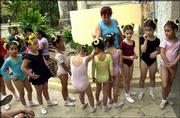 After having been the company's director, choreographer and teacher, Alonso still decides what the dancers will wear, who will go abroad, with whom they will dance, what they will dance.
And she has counted on the support of President Fidel Castro and his revolutionary government since the early years.
"After the revolution triumphed in 1959, Fidel knocked on Alonso's door to offer the new government's help, and he promised that he would make (ballet) available to all social classes," says Miguel Cabrera, ballet school historian. "The government paid for everything from the building to rehearsals, salaries and ballet shoes."
As a top dancer, Valdes receives a government salary similar to that of an important scientist or doctor: about $25 a month, as well as food, housing and other government subsidies. She has toured with the Cuban ballet and as a guest with foreign companies, giving part of her foreign earnings to the government.
"Now my target is to achieve international recognition," Valdes says. "But I will always be linked to this ballet and to my country."
Alonso, who had worked with such great choreographers as Georges Balanchine, Antony Tudor, Agnes de Mille and Jerome Robbins, started the Ballet Alicia Alonso in 1948 in Havana. The company was renamed the National Ballet of Cuba in 1959 when it received support from the government.
The company is regarded as one of the top troupes in the world and Cuban dancers consistently win at international competitions. Former stars include Jose Manuel Carreno, who became a principal with the British Royal Ballet and ABT.