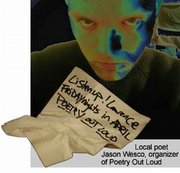 There's something about a poem read aloud, extracted from the page and given audible life.
"When a poem is published ... that's it. It's nailed to the wall," said Thomas Zvi Wilson, a Shawnee poet. "However, both the listener and the poet, every time the poet reads the same poem, are in for something new that never happened before. Every time you read a poem, you read it a little differently. The listener gets a lot more out of a read poem, a poem read aloud by the individual who made it come to be."
Wilson and eight other Kansas wordsmiths will read their work Friday nights in April for the first-ever Lawrence Poetry Series. The event, organized by Perry poet Jason Wesco, coincides with National Poetry Month. Wesco hopes to make it an annual occasion.
"We have some really quality people that are going to read," he said. "I hope we can get an audience for them so it becomes known in the local poetry community."
Poetry seems to be experiencing a renaissance of sorts. The onslaught of poetry slams and open mic nights in the past several decades has brought verse to an ever-expanding audience. More publishing outlets have sprung up, providing more opportunities for poets to share their work with the public. And emotionally wrenching events, such as war, are inspiring more and more people to commit their thoughts to paper in the form of poetry.
"I think that poetry is important to people, and that's not really going to go away," said Brian Daldorph, a Lawrence poet who edits the Coal City Review and serves as fiction editor for the new I-70 Review. "I think that at times in our lives and with certain experiences we really need to express ourselves. I think poetry gives us that opportunity, and I think people are drawn to it for that reason."
Need for poetry
For most of the poets on the Lawrence Poetry Series roster, composing poems is something they're driven to do. It certainly doesn't pay many of their bills -- though they're all published, they make their living at other jobs -- but it gives them an outlet to communicate important ideas.
"I don't want to sound exclusionary, but it's basically work that I think is really good," Wesco said of the poetry included in the series. "Of course that's all subjective. But you can tell when you read somebody's work whether it feels like it needed to be done, whether it feels immediate and important. I like to think I have some sense for what will be meaningful to people."
Pinpointing that meaning and conveying an experience to readers or listeners is a poet's responsibility, said Jeanie Wilson, Shawnee poet and wife of Thomas Wilson.
"If we fail to do that, then we've failed as artists and we've failed the reader," she said.
She began writing when she was 18 -- she's 55 now -- and finds her work often focuses on women or is written with a female persona. Her book "Uncurling," published in 2000 by Mid-America Press, includes sections on Marilyn Monroe, women's sensuality and women under stress.
"I think for many writers, work comes out of something that's personal, and then it either remains in some personal venue or it later evolves into something more fictional," Wilson said. "My work consists of fictionalized pieces and other pieces that are pretty autobiographical."
The same is true for most of the writers in the series. Many of them are Kansas natives and feel a connection to the state's land and people.
Denise Low, poet and English professor at Haskell Indian Nations University, grew up in Emporia and is influenced by the culture and people of the region.
"I move between the polarity of William Burroughs and William Stafford, which is a little schizoid," she said, laughing.
She's been writing "not since I could walk, but as soon as I could learn to scribble" and has been widely published. This new poetry series will play an important role in giving voice to a community of writers, she said, and those voices are important.
"One of my favorite stories is when my colleague at Haskell happened to be scheduled to do a poetry reading on Sept. 12, 2001. Someone came up to her afterwards and said to her, 'Thank you so much for being a poet,'" Low said. "It's not an easy thing to commit your life to this as she has, and a few others have, but at that moment that person just really was struck by how badly poets are needed."
Saying their own thing
Though many of the poets have taken a stand in their poetry against the war with Iraq, Wesco said the April readings wouldn't be political forums.
"People will get up and read what they're working on now," Wesco said. "Some of it will probably be political because that's the world we're living in right now, but I don't anticipate it being a rant."
Daldorph, whose latest collection, "Senegal Blues," soon will be published by Wesco's 219 press, said the most recent incident that proved poetry's power dealt specifically with the war. On Feb. 12, First Lady Laura Bush indefinitely postponed a White House symposium called "Poetry and the American Voice" because of invitee Sam Hamill's known stance against the war.
"I think people can say that poetry is irrelevant, but I think that's a really obvious example of how significant poetry can be," Daldorph said. "We all wish there wasn't cause for this, but I do think it shows that it is important and people do listen and that it does have a significant role in our society."
As a KU English professor, Daldorph has seen an increase in students interested in poetry recently.
"The classes are full," he said. "I think it's a very popular subject, and I think with good reason because it does give people a chance to do their own work and say their own thing. Not too many majors provide that opportunity."
As for saying their own thing, these poets are eager to share their carefully crafted words -- out loud -- with a live audience.
"Like most writers, poets spend a considerable amount of time on their own doing the work. It's always very rewarding to us if we can get it out to an audience," Daldorph said. "It's about communication. We like to have an audience to speak to, and we hope that of course they gain from the experience as well."
More like this story on Lawrence.com