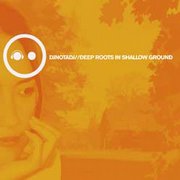 DJNOTADJ has no problem telling you what they're not. Where they may run in to trouble is telling you what they are.
Is DJNOTADJ an electronic act? Sort of. The band incorporates plenty of samples and programming into their music, but the foundation tracks are cut using live drums, bass and guitar instrumentation. The equation translates seamlessly into a live setting; a rarity among electronic artists.
Is DJNOTADJ a jam band? The 8-14 minute songs seem to indicate a predilection towards that genre, and the band can be found on such dread-friendly sites as jambase.com. But I'd be hard pressed to see them opening for String Cheese.
The truth is that DJNOTADJ -- Jerett "DJF" Fulton, Nate Holt, Bob Little, and Dash Williamson -- falls somewhere in between the two genres. Think of it as the Grateful Dead performing on analog synths from outer space. In 2024. On acid.
At a length of 77:42, "Deep Roots" would make a fine soundtrack to orbiting the earth. For short attention spans like myself who lack access to the space program, however, it can drag a bit.
The title of the band's label -- Mixtape Meditation -- seems to indicate DJNOTADJ is not promising big hooks or hit singles, which is good, because they're nowhere to be found. Rather DJNOTADJ crafts soundtracks for journeys: physical, spiritual and chemical. To this effect, songs segue into one another, making it hard to tell where one ends and another begins.
The album's guest vocalists -- Jesse Jackson, Regina Cruse and DJ Konsept -- are used sparingly. Cruse's contribution is simply to whisper the phrase "How good it feels to be alive" (42 times), while Jackson urges the audience to "Light it up now, brighter than the sun now. Light it up now, we all are one now."
To a listener with an uncompromising rock sensibility, the album probably doesn't deliver enough hooks to stay tuned for the full 77 minutes. But for patient ears, or those with an affection for trance and chilled out electronica, DJNOTADJ may well have just the right prescription.