A Super Smash Bros Melee tournament will be held June 7th from 6-8p.m. at Holcomb Community Center. The cost to enter the contest is five dollars but the admission is free to all spectators.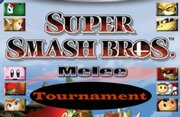 Prizes include a Gamecube and a Gameboy Advance SP and something for all contestants. The event will have pizza, chili and drink available.
Also, participants and spectators are encouraged to dress like your favorite game character for a costume contest as well.
Proceeds benefit the Lawrence-Douglas County Promise fund.
Anyone can call 785-841-9113 or e-mail smashbrothers2003@hotmail.com to sign up or for more information.
Super Smash Brothers Melee is for the Nintendo Gamecube and now retails for $29.99 everywhere.