Beacon, N.Y. — The old Nabisco printing factory seemed a natural home for the oddly delicate bulk of Richard Serra's steel creation, "Torqued Ellipses." The three sculptures, along with a fourth spiral called "2000," fit perfectly into the factory's former train shed.
The sprawling, open-floor complex is naturally illuminated by a wealth of skylights. The maple floors and exposed brick of the outer walls help the space retain the building's original industrial nature.
"It was a ready-made museum," says Michael Govan, director of the new Dia:Beacon, which opens May 18. The museum will house the Dia Art Foundation's extensive art collection.
And with 240,000 square feet of gallery space, the $30 million Dia:Beacon will be the largest contemporary museum in the world, dwarfing such places as the P.S.1 Contemporary Art Center in Long Island City, N.Y., and the Massachussetts Museum of Contemporary Art, MASS MoCA, in North Adams.
The history of contemporary art unfolds in the galleries with works from every major movement, including conceptualism, minimalism and environmental art.
The vastness of the new museum provides necessary space for the more than 1,000 works amassed by the foundation from 24 of the most prominent artists of the latter half of the 20th century, including Joseph Beuys, Cy Twombly, Sol LeWitt, Andy Warhol, Brice Marden and Gerhard Richter. Some of the creations are gigantic, requiring more space than most museums can afford to give.
From Serra's massive sculptures to Michael Hizer's geometric cavities -- "North, East, South, West" -- that extend some 20 feet below the concrete floor, many works are simply too large or too demanding to be adequately showcased in a more orthodox museum. As a result, most of the works have either rarely or never been shown before.
Constant tug of war
Govan is fond of describing Dia:Beacon as a campus of individual artists' spaces. He gestures to an expanse of hardwood floor strewn with John Chamberlain's crumpled, colorful metal sculptures. The vast area resembles a sculpture park more than it does a gallery.
Besides the main floor, the museum has two levels. The cavernous, 50,000 square-foot basement will be the only changing exhibition space and will also feature multimedia pieces, such as Bruce Nauman's video installation, "Mapping the Studio I (Fat Chance John Cage)," a compilation of nocturnal recordings of Nauman's studio.
The smaller top level -- or attic -- is occupied solely by celebrated sculptor Louise Bourgeois. One of the few female artists of her generation, she is also one of the few women represented at Dia:Beacon. Her amorphous, sexual shapes hang throughout the raw, brick-walled space, like slabs of flesh in a meat locker. Wedged into one corner, her 17-foot steel "Spider" engulfs a mesh cage, its creepy bulk emphasized by the cramped quarters.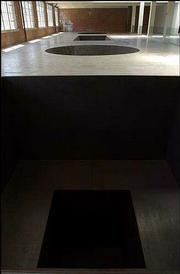 At 92, Bourgeois rarely travels, but an assistant was very involved in the installation process. In keeping with Dia's tradition of catering to artists, which began with its patronage of sculptors like Donald Judd in the 1970s, Dia:Beacon has tried to accommodate the requirements and desires of its artists.
Artist Lawrence Weiner has three works at Dia:Beacon, including his 1969 "Declaration of Intent," painted on the walls of the cafe:
1. THE ARTIST MAY CONSTRUCT THE WORK
2. THE WORK MAY BE FABRICATED
3. THE WORK NEED NOT BE BUILT
Weiner describes the usual installation process as a constant tug of war between artist and museum staff.
"In a typical museum experience, you're told, 'We have the perfect space for you, we hope you're happy with it,' and you basically work from that point," says Wiener. "But this was a conversation from the beginning, which is rare."
Artists met with Govan, curator Lynne Cooke and artist Robert Irwin, who served as master planner and also designed the surrounding gardens, in which cherry trees, hornbeams and even the grass serve as architectural elements.
Project architect OpenOffice figured out how to make everything work, such as hiding the mechanical systems to create an environment in which nothing distracts from the art.
Collaborative installations
The story of how the Dia foundation's collection found a home in the abandoned factory has taken on an almost providential aura.
Dia:Beacon opens May 18. Museum hours through October 14 are noon to 6 p.m. Thursday through Monday. Due to the building's reliance on natural light winter hours, beginning on October 15, are 11 a.m. to 4 p.m. Friday through Monday. General admission is $10.
It was 1998, and Dia was mired in the daunting task of finding a permanent home for its artwork, much of which was languishing in storage. Tensions and frustrations were mounting. Then, one day, Cooke, Govan and architect Richard Gluckman were flying up the Hudson River, on their way to MASS MoCA. As they passed over the city of Beacon, someone pointed to the factory. In that instant, Dia:Beacon was born.
In reality, says Govan with a wry smile, "There was no genius. No one even thought about this building until three months later when all other options had fallen through."
The original integrity of the building has been left virtually untouched, other than a few necessary alterations and the addition of a small entrance foyer that opens onto a light-flooded stretch of floor and Walter De Maria's progression of stainless steel circles and squares, "The Equal Area Series."
While some might view the renovation of a pre-existing building into a museum as a limiting experience, Govan describes it as freeing.
"Instead of focusing on giant architectural issues," as is typical with most museum construction, he says, "for four years all of our energy went into figuring out what the art needs."
Whenever possible, individual artists were able to choose and then modify their spaces. These collaborative installations, says Cooke, have been the most enjoyable aspect of creating Dia:Beacon.
"The artists of this generation all address space and make a dialogue with it, as opposed to being passive or disinterested," she says.
Dia's allegiance to an artist's wishes does not end with the artist's death. One of the perimeter galleries houses Dan Flavin's fluorescent-light "monuments" for architect V. Tatlin. The white tubular lights are installed on a white wall that zigzags down the length of this space, according to a design the artist conceived but never implemented before his death in 1996.
The large factory windows flood the gallery with light, almost overwhelming the artificial light with natural brilliance. As each day progresses and the sun fades, however, Flavin's "monuments" win their silent battle. The daily, come-from-behind victory is wonderful to watch.
Not really in isolation
Unlike many other museums, which typically group different artists together, Dia:Beacon's loose network of galleries is set up so that each artist can be seen separately.
For an artist such as Robert Ryman, who creates white, minimalist paintings, this separation is crucial, says Govan. Ryman's art "is extremely sensitive to its environment," Govan says. "If you put a Flavin in here, it becomes very hard to read these things."
Such subtleties as brush stroke variations and Ryman's attention to edges come to the forefront when viewed in the Dia space.
While Cooke says the staff was intent on not creating a "fruit salad" -- with a hodgepodge of artists in each gallery -- she believes that people will see connections between the works, even if the works aren't right next to each other. Weiner agrees.
"I don't feel that I am isolated," he says. "Because of the layout, at any given moment you see things out of the corner of your eye."
This layout, says Cooke, is intended to dissuade museum-goers from the notion that there is a specific trajectory one should follow when viewing art. Rather, she hopes people will imagine various "hypothetical" relationships between the works.
And there are no wall texts to tell viewers what is important about what they're viewing.
Govan, who says texts can be disruptive when placed beside unframed works, says too much is made of the "difficulty" of modern and postmodern art.
"All you have to do is spend a little time with it. It makes so much sense," he says.
More like this story on Lawrence.com