Corning, N.Y. — At a walk-in workshop next to the Corning Museum of Glass, high school teacher Denise Miller pinched and pulled a glob of molten glass with foot-long "tweezers" to create a flower-shaped vase.
Nearby, 12-year-old Mary Ellen Shoup melted colored glass with a gas-oxygen torch, the drips falling onto a steel rod she twirled slowly to form an exotic bead.
Museum patrons dazzled by the artistry of Venetian goblets or mystified by the mechanics of flame-working, fusing and sandblasting can experience the thrill of molding this magical material themselves -- and take home the proof.
"Until I made my own flower, I had no idea how they shaped it," said Miller, of Eugene, Ore. "Today I figured it out because I got to do it. It looks nice."
The next time she spots one, she'll shriek: "I made one of those!"
Taking a cue from their science and natural-history cousins, art museums are increasingly offering varying degrees of hands-on excitement. Artist-led studio classes, or mere half-hour beginner sessions with an instructor, are turning passive scrutiny into passionate immersion.
"It blows the dust off the myth that a museum is a little jewelry box that needs to be kept under lock and key," said Brent Sverdloff of The DeCordova Museum and Sculpture Park in Lincoln, Mass., which introduces visitors as young as 5 to woodworking, ceramics and jewelry smithing.
Engaging the audience
Over the last decade, the focus has tightened on getting museum-goers to slow down and engage -- and not necessarily by enchanting them with gizmos. Art is often viewed as a thing of beauty in no need of intellectual adornment.
Interactivity, sometimes termed "kinesthetics," serves as a springboard for deepening appreciation of publicly displayed treasures. It surfaced more than a generation ago and migrated in the 1990s to art museums, where it has flourished in recent years.
It can mean many things, starting with such basics as the addition of pencil and pad for garnering opinions. Instead of vision alone, it seduces all the senses -- smell, touch, hearing -- to make the outing more fun, more thought-provoking.
The Art Institute of Chicago has a "Touch Gallery" where people run their hands over bronze and stone busts coated with a protective wax layer. On special occasions, visitors can quiz art students copying the old masters, listen to an actor reading from Frank Lloyd Wright's autobiography or watch a Zen arts master dance the role of a Japanese warrior.
The Minneapolis Institute of Arts is experimenting with computer screens that dispense historical context at the touch of a button. Its "audio guide" headphones supply narrative or musical accompaniment, such as Claude Debussy piano arrangements in the Impressionism gallery.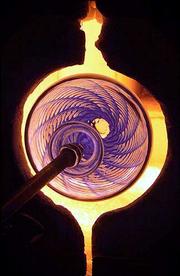 Some museums set aside a storytelling hour, lay out art books on tables, present short videos, lectures or a lively Q&A.; More often, the buzz builds by letting folks of all ages and levels of experience come up with their own creations.
"I walked into this gallery at Cleveland Museum of Art and here are a bunch of 4 and 5 year-olds on the floor with paper and chalk making their own impressionist artwork in a room full of impressionist paintings," said Edward Able, president of the American Association of Museums. "They were totally engaged."
Wider accessibility
Combined with interactivity, art museums are striving to be "intellectually accessible to everyone, so you don't necessarily have to have deep education in the subject matter of the museum to understand, appreciate and learn from it," Able said.
Those changes were credited with almost doubling attendance at the nation's 11,000 museums -- one in eight are art museums -- to 850 million visits during the 1990s, he said.
The Dallas Museum of Art, celebrating its centenary, is attracting apprentices to its weekly "Sketching in the Galleries" forum, which is guided by artists whose works adorn the hallways.
The 2-year-old Frist Center for the Visual Arts in Nashville, Tenn., boasts an interactive educational center for practicing techniques like watercoloring, collage and printmaking. The public's endeavors are then stored in individual digital-imaging portfolios.
The Corning museum boasts the world's most comprehensive collection of glass objects, 35,000 items ranging from giant ornamental sculptures to mass-produced soda bottles.
Since glass is more than just than a medium for artistic expression, the 53-year-old museum has been refashioned since 1996 to incorporate the history and science of glass. It also has evolved into a world-renowned laboratory and teaching center.
The adjacent "Studio" offers a full array, from 10-week to one-day classes, in such specialties as glassblowing, marble-making and photosandblasting. At its "Walk-In Workshop," the uninitiated try their hand after rambling through the museum.
"I didn't pay much attention to the sculptures," confessed Shoup, visiting with her suburban Chicago family. "But when I saw how they're made, I started to appreciate them more."
Contemplative, interactive
Instructor Glady West showed how glass is gathered up with a steel rod from a 2100-degree Fahrenheit furnace. The honeylike substance cools rapidly to a taffy consistency, then is softened up again in a 2200-degree "glory hole" before being manipulated into shapes.
"It gives people a better understanding, when they look at pieces in the museum, what went into making them," West said. "Glass will certainly teach you patience."
Though she needed help with the heavy tongs, Irene Trudgian, 80, was delighted with her white glass flower.
"This is my first time and, really, for a senior it's marvelous," said Trudgian, who arrived on a chartered bus from Hamilton, Canada. "Our tour group was raving about it."
Nearby, a small crowd gathered to watch a half-dozen master glassblowers busy at work.
"Glass is passionate, and it's addictive -- it just becomes more alive to you when you've worked it," said Amy Schwartz, who runs the studio.
Susy Watts, a consultant in Seattle who helps museums develop interactive galleries, said the best ones demonstrate how art can be examined from multiple vantage points.
"For a while, there was the thought that a gallery could not be both contemplative and interactive," she said. "Now I believe we're beginning to unlock the box to show that it can be both."
The ulterior aim is plain: making the art museum a regular haunt instead of a curiosity seen "once every three years," she said.
More like this story on Lawrence.com