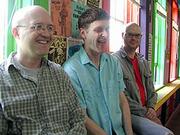 Just a few years into the Eudoras' prime -- back circa 1996, as guitarist Jon Harrison and drummer Bill Colburn recollect -- the Lawrence surf band's rough-and-tumble shows caught up with them.
An incident upped the whiskey-soaked ante just enough to lead both to the tacit departure of original bassist Brock Ginther and thus to the end of an era.
Before said incident, the Eudoras were playing a lot. At least once a month or so. "We never had any designs on touring or anything like that," Harrison said. "But we played as often as any band could around here without making everybody ill."
"Well, from playing," Colburn cracks. "Usually we'd get so drunk that we'd be ill anyway."
Which brings us back to 'the incident.' It's not exactly clear whether the hair-pulling and thrashing that went down among the audience that night actually resulted in the "break up of the whole Eudoras thing -- the straw that broke the camel's back," as Harrison wondered aloud. Maybe it was the camel that broke the straw's back. Maybe it was never meant to be much more than a raucous fast burn of a band.
All that was really clear the morning after was that there was an arrest, a restraining order, and -- in the ensuing years -- the Eudoras would play but a handful of shows.
Some will remember that the Eudoras were the first band to ever play the Replay Lounge, and that they played with the likes of Jad Fair and Phonocomb, Sons of Hercules, and Reverend Horton Heat. But these days they are no longer apt to book shows themselves. Instead, they seem quite willing to play the occasional holiday show, wedding, bar mitzvah or birthday bash.
And though they've been a part of some notable compilations including work with William Burroughs, they didn't go so far as to record a full-length until just this year. The 12- to 15-track disc -- recorded by Colburn, Harrison, guitarist Kory Willis and bassist Kevin Enos at Underground Sound in Lawrence -- will be available later this year.
Lawrence.com :: What is it about your shows that gets folks in the audience all riled up?
Bill :: We start out innocent enough but by the end of the show, it's usually pretty out of hand. It can get pretty hairy. And we don't know why.
Jon :: I don't think it's our fault. We're pretty normal ... It's been a long time since anything like that's happened though. It's probably been five years since we've had an incident.
Bill :: Since I went to college. I learned better. (laughs)
Jon :: Bill went to college, I got married. Kory got married. It's unseemly to have that sort of thing going on at your gigs now.
What are some of the fonder, gentler memories you have?
Bill :: Working with (late writer and Lawrence resident William) Burroughs for the Micronotz tribute record, don't you think?
Jon :: Oh yeah, yes.
How'd that happen?
Bill :: We got a call from James (Grauerholz) that they were putting together a Mirconotz tribute record. Most of us had been in bands that had performed in the Outhouse when it was going on and I'd certainly seen the Micronotz in their day, so we were like 'Sure!' I guess William wrote lyrics for them called 'Old Lady Sloan' and they sort of adapted a tune around it and we kind of adapted their tune...
Jon :: (laughing) There wasn't so much a tune to it as a chord progression. So we were forced to deal with that. It was a lot of fun and real easy. We just went in and tried like three takes. He sat in the control booth and read it live while we played. And it sounded amazingly good.
Bill :: He was really professional. I remember the wildest it got was drinking whiskey out of a bottle that had a dog food label on the front that said 'Strong Heart.' I think in his later years he learned the value of moderation. I remember him saying 'Now remember gentlemen, more is not always better.' He knew that we were troublemakers.
Jon :: He told me this story (employing Burroughs impression): "Were you here ... for the tornado ... in 1984? ... A man ... was killed ...at the Wal-mart. ... Pitman. ... Stanley Pitman. ... He went the wrong way.
Bill :: (laughs) Wrong Way Pitman.
So I hear you're recording again these days. Have you written new stuff?
Jon :: No, there is no new stuff. (laughs)
So why did you decide to record again?
Bill :: (longer story ensues; abbreviated version included here...) I had an old Ampex four track ... (that) I had bought for $100 ... I was able to get it working for all of 20 minutes ... Tom Wagner (from Underground Sound studio in Lawrence) got wind that I had this thing and he wanted it because even if he couldn't get it to work, he wanted the parts because they're really hard to find. In exchange for it he'd give us studio time...
Jon :: Tom's pretty amazing ... He's the kind of guy that will scrape corrosion off of something for five hours with his fingernail if that will get it to work.
Bill :: There's a whole analog realm that's totally different than recording digitally. It's pretty sophisticated and not many people really know about it. Tom's applying it to his own studio and it sounds great. We didn't touch the EQ at all, we just moved mics around. We laid it down to multi-track and back to CD just flat.
Jon :: And it's the best sounding recording we've ever had.
Bill :: Since that machine was made in the early 70s, it's as close as we're going to get to sounding authentic. It's really the best analog quality you can get.
Jon :: Actually what we recorded on is far better still than the stuff the records in the early 60s would have been recorded on. And it would have all been live. There would have been no overdubbing. You can hear mistakes on those records, little glitches...
Bill :: But not on ours! (laughs) It's glitch-free!
So how was working with Tom?
Jon :: He's insane. (laughing) He's just absolutely nuts. He's amazing.
Bill :: He's such a fan. I think the Beatles really got him into recording, you know George Martin. He's very detail-oriented about how to process this stuff. The only thing that was affected through the whole recording process was my kick drum. And he just ran it through a pre-amp to give it that tube sound, that 60s kick drum feel. He'll do whatever it takes to get the sound he wants but it's always analog with very little EQ. He tries to get the sound of the microphone. When you've got the Neumann's and the Signheisers, they've been designed to get that sound. The trick is just to get the gain structure right.

Jon :: The nature of that is very easy to work with as a band because, though I'm not technical like Bill or Tom, once you get everything set up and tweaked and in perfect order, pretty much all Tom has to do is hit a button, and if we suck we do it again. In that way, it's much easier and a lot more comfortable to work with than going in and doing overdub after overdub, you know having some engineer stop you because you didn't pronounce that word that well.
Plus it gives you an excuse to jettison this weird notion we have these days that records need to be perfect.
Who writes the songs?
Bill :: It's certainly not me!
Jon :: Kory writes the ones that sound difficult to play. I write the ones that sound very easy to play.
Bill :: I don't know about that. I can't play any of the songs either one of you write.
Jon :: Well ... That was kind of the challenge from the start. That was the main reason I was interested in having the band. I loved surf records and I wanted to see if it was possible to do that, you know, write originals that were immediate and catchy as the real thing.
Are you happy with what you've done?
Jon :: I think some of them have really come close.
Bill :: From all the bands I've ever been in ... more people have heard of the Eudoras.
Jon :: It's the most popular band I've been in by far.
Bill :: That's sorta been the litmus test for how successful we've been. Part of it's probably that they're all instrumentals and there's no lead singer to get in the way. Every once in a while Jon will let out a couple lines from a Hüsker Dü song, but that's about it. The interpretation is left up to the audience and we focus more on just setting that mood and less on conveying a specific message.
Jon :: (ironically) We have nothing to say.
So this show is Anne (Tangeman)'s ninth annual 30th birthday party?
Following is a semi-complete list of other bands the Eudoras four (and former fourth) have played with...
Kory Willis
Mauchovonian Love Beat
Spam Skinners
Gizzard Basket
Kristy and the Starlight Rounders
Mid Day Ramblers.
Jon Harrison
the Wilmas
What Gives
Ricky Dean
Kristy and the Starlight Rounders
Kevin Enos
King Trash
Chubby Smith and his orchestra
Rodan
Chubby Smith 5
Bill Colburn
Eutectics
Big Toe
Chicken Foot
Belt of Heads
Manapsara
Jet Black Bananas
Spam Skinners
Small Bells
Ricky Dean
Arthur Dodge and the Horsefeathers
Tank Farm
Gizzard Basket
Chubby Smith and his Orchestra
Donkey Show (for like a week)
Kristy and the Starlight Ramblers
Poop
Half Price Stars
Hefners (for like three weeks)
P90's
Das Showboat
Gournmet Mushroom X
(Insert everyone I missed here, there is a real shortage of drummers, huh..)
Brock Ginther
Homestead Grays
Tenderloin
Buddy Lush Phenomenon
Jon :: Yeah, it's become something of a tradition. We're all terribly fond of Anne.
She used to play with you all in Ricky Dean Sinatra?
Bill :: Yes, as Consuela. Wow, how many versions of that band have there been?
Jon :: Oh geez, 36? Or 37. That band was always fun. ... The best thing about it was that I didn't even go to practices in that band. Just showed up. As Jerry Lee Lewis might say "There was a whole lot of not practicing goin on."
Is that how it is with the Eudoras? Very little practice?
Jon :: We don't practice much. Before our last gig we'd been doing a recording so that helped. I particularly enjoyed that last show. ... It was at the Replay, with ...
Bill :: Hasil Atkins. I still have blood on my drums from that.
Jon :: Really?
Bill :: He bled on my drums. He wanted warm beer. A six-pack of warm Budweiser ... because he doesn't have any teeth and the cold beer would hurt his gums. (laughs)
That's one of the best things about playing around here. The bands that come through, just to have the drummer from Shadowy Man go 'Wow, that was really cool! How'd you do that one thing with the foot thing?!'
Jon :: That was cool. The fact that they liked us really meant a lot to me.
Bill :: That's what it's more about than anything. Having the chance to see these bands come through that are really out and doing it, touring, doing it successfully. It's great to bring that kind of stuff to Lawrence and it's great to see that kind of stuff. You don't really see that even in a lot of larger cities, you know? The fact that they stop in Lawrence is pretty remarkable.