Los Angeles — One hundred years ago on May 29, a son named Leslie Towns Hope was born to a stonemason and his wife in the London suburb of Eltham.
The boy grew up to become the most American of comedians: Bob Hope.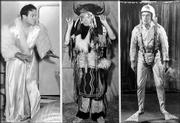 The family moved to Cleveland when the boy was 4. "I left England when I found out that I couldn't be king," Hope later quipped. Like many immigrants, he became strongly patriotic.
He entertained troops in far-off lands, often near combat zones, during every major 20th-century American conflict except World War I. He was a tireless performer for charitable causes. He appeared before 11 presidents, even playing golf with several of them.
As a performer in radio, movies and television, Hope captured the American idiom. His crisp delivery was tuned to the latest slang. His barbs at politicians and other public figures were well-aimed but never hurt. And unlike many later comedians, his humor was always fit for family audiences.
Since appearing on his final TV special on his 90th birthday, Hope's health has gradually worsened. No longer able to communicate, he may be unaware of all the celebrations for his 100th -- and this was a man who cherished honors.
Linda Hope, the oldest of Hope's four adopted children, believes her father realizes that his birthday is approaching. "Every time we talk about it, he has a big grin on his face," she said. "He always said that he was determined to outlive his grandfather, who passed away shortly before his 100th birthday.
"His health is very frail at this point, and the doctor won't let him out in crowds with all the infection going around. He's pretty much home in his room and out on the patio."
'Full of fun'
In his prime, Hope received more than 1,500 awards -- from Queen Elizabeth, the Pope, the Motion Picture Academy (four honorary Oscars), the White House, Congress and dozens of universities (54 honorary degrees).
As a young man, Hope boxed briefly under the name "Packy East." In the 1950s, he was part-owner of the Cleveland Indians baseball team.
The 100th birthday celebrations includes a two-hour NBC special (the rerun from Easter Sunday that drew 12.6 million viewers ran again on Saturday); a Hollywood Walk of Fame event proclaiming Hope as Citizen of the Century; release of 17 Hope movies on DVD by Universal Studios; a traveling exhibit at the Reagan Library; Hollywood and Vine being renamed Bob Hope Square; a BBC special; an A&E; biography; film festivals in Los Angeles, New York, London and Chicago; and renaming the street where he lives Bob Hope Way.
Two days before Hope's birthday, his wife, Dolores, turns 94. The couple met on Dec. 21, 1933, when Bob walked into a Manhattan nightclub and heard a statuesque beauty singing "It's Only a Paper Moon." Hope persuaded Dolores Reade to join his vaudeville act, and they were married in 1934. They've been together 69 years.
The usually affable Dolores has been under a doctor's care for severe muscular pain and was unable to be interviewed for this article.
Daughter Linda, unofficial keeper of the Hope legacy, said her dad "was a great father, full of fun."
"He made such fun for all of us, like giving us golf lessons with our own little clubs," she said. "And the ordinary things that fathers do: going out to restaurants, the theater, circuses. It was always a fun-filled thing with him, because he was spontaneous."
For many years the Hope children observed Christmas Day while their father took his troupe of entertainers to far-off places.
"We had two Christmases," Linda explained. "We would open a few presents on Christmas Day. Two or three days later, Dad would return, and we'd have more presents. Dad would always bring us little exotic pieces he picked up on his trips."
Clean comedy
Those who helped make Hope funny over the years agree that he was a benign boss.
"He was the easiest person for a writer to work for that there ever was," comments Mort Lachman, who also toiled as director and producer for Hope from 1947 to 1975. "He was the opposite of most comics: he didn't hate the writers."
Lachman recalled his first job with Hope. He was in a room with a dozen other joke writers, most from New York, all pitching for the star's radio show. Lachman, "an introvert from Seattle," shyly wrote a joke on a used envelope. Hope grabbed it, read it and crumpled it. When the pitches ended, he recited the young man's joke. Big laugh.
Hope muttered to Lachman, "You didn't think I was that funny, did you?"
Gene Perret, who contributed gags from '69 to Hope's retirement in '93, recalls: "There were two things he always wanted with him when he traveled -- a big box with all his makeup in it and a beat-up briefcase full of jokes. That was all he needed on the road."
Hope always steered away from racy material, Perret added, remembering when Hope rejected a joke for the 25th anniversary of Queen Elizabeth's reign. "I don't want to do it in front of the Queen," the comedian said.
When Perret argued, Hope said, "You do it. But remember, she still has the power to behead."
"The public Hope was like the private Hope," remarks Hal Kanter, who co-wrote six screenplays for Hope, including "The Road to Bali" and "Off Limits." "He appreciated good dirty jokes, but he never used coarse language."
'Good actor'
Mel Shavelson started as a gag writer on Hope's radio show in 1938 and later directed and co-wrote "The Seven Little Foys" and "Beau James." Hope played vaudeville comedian Eddie Foy in the former and New York mayor Jimmy Walker in the latter.
"I had to twist his arm, in a sense, because those were about the only two films in which he did not play Bob Hope," says Shavelson. "I believe every comedian has to be an actor first, and he's a very good actor, but he's ashamed of it. So if he played a serious scene, he would always break up the crew afterward with some kind of gag."
Phyllis Diller, who became a regular on the Hope shows, remembers their first meeting: She had been booked into a second-rate hotel in Washington, D.C.
"I had an audience full of hookers," she recalled, "and I was doing my little act about domesticity. It wasn't going over, so Bob saw me bomb. But he told me I was great. That was the turning point in my career."
Lachman touched on Bob Hope's great appeal:
"He was everyman. He wasn't better than anybody else. When we were in Vietnam, he was as big a coward as anybody. He was the guy who never got the girl, who always said the wrong thing, who couldn't quite dance or sing," Lachman said. "That's why he represented all those servicemen out there who were doing the same things."
May 29, 1903Leslie Towns Hope born in Eltham, England.1907Family emigrates to the United States, settling in Cleveland.1920sBecomes rising vaudeville star, at first as part of a dancing act.1927New York stage debut in "Sidewalks of New York."1932Makes radio debut on "Capitol Family Hour."1932-36Appears in several important Broadway productions, including "Roberta," the 1935 "Ziegfeld Follies" and "Red, Hot and Blue."1934Marries singer Dolores Reade. They adopted four children: Linda, Anthony, William Kelly and Honora.1934First radio show premieres, beginning a record 62-year affiliation with NBC.1938Feature film debut in "The Big Broadcast of 1938," in which he and Shirley Ross sing "Thanks for the Memory."Feb. 23, 1939First Oscar appearance, presenting the awards for best short films.Feb. 29, 1940First appearance as Academy Awards master of ceremonies. In all, he served as an emcee or co-host 20 times between 1940 and 1978.1940Co-stars with Bing Crosby and Dorothy Lamour in first of the "Road" pictures, "The Road to Singapore."May 6, 1941Plays first camp show for servicemen at March Field in California.1948First Christmas tour for servicemen taking part in Berlin airlift.1950Makes first television specials, including first Christmas special.March 19, 1953Serves as co-host for first televised Oscar ceremony.1969Receives Medal of Freedom from President Lyndon B. Johnson.March 29, 1978Host of Oscar ceremony for the last time.December 1990Goes to Persian Gulf to entertain troops on the eve of the Gulf War; his last Christmas show for troops overseas. He joked: "If anybody tells you I was in the Civil War, I'm denying it."May 199390th birthday celebrated with a TV special featuring President Clinton and former presidents Nixon, Ford, Carter, Reagan and Bush.November 1996NBC airs his last special, "Laughing with the Presidents."March 1997U.S. Navy christens the USNS Bob Hope, a 950-foot, 33,000-ton support ship.May 2000Library of Congress opens the Bob Hope Gallery of American Entertainment.Source: The Associated Press