Tuesday, November 4, 2003
Any snowboarding game has a hefty burden to carry of basically not being an SSX game. So to get noticed, it must do more than just match the quality, but surpass it. Amped 2 does deliver heavy online action via Xbox Live and does hold its own, but can't compete with EA's offering.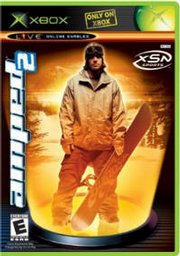 Like the first installment, the controls are designed to be more accessible with tweaks assigned to the right thumbstick instead of buttons. Although it sounds like a good idea on paper, it executes rather awkwardly. Preloading flips and spins aren't as easy as SSX 3 and take much more getting used to. Some may blindly say that mastering the controls makes it more real, but ironically it is not as deep as SSX. Sure Amped 2 leans toward simulation than arcade, but the control setup distances itself from the player just a bit and could be tighter. Not to say it's impossible, but the learning curve is higher if you are new to the Amped series.
Even though SSX had a big friggin' mountain to traverse, course designs in Amped 2 are noticeably better than SSX, giving the player a better rush and sense of purpose while parading downhill.
There are a handful of multiplayer modes dealing with highest trick scores and fastest times down the hill that are pretty fun. The best time does come when racing seven other people online though.
The character models are pretty general but the expansive draw distances and mountainous terrain are impressive. The game runs in HDTV 720p widescreen and looks super clean. The voice acting is really bad and repetitive but is in contrast to the slushes and snow-like nuances enveloping the gamer as you ride.
Amped 2 modestly sets itself apart from SSX in key areas and improves on its predecessor, but the fun factor is noticeably quieter in this effort.
Graphics: A-
Sound: B
Gameplay: B-
First Play: B-
Last Play: C
Overall: 78% C+