Thursday, November 6, 2003
Nashville, Tenn — Johnny Cash won the Country Music Assn.'s album of the year, single of the year and video of the year awards Wednesday -- capturing his first CMA awards since 1969 and tying Alan Jackson for most wins during the night.
Cash, who died Sept. 12 at age 71 of complications from diabetes, was nominated for four awards and won all but one: vocal event of the year.
"It's amazing my father had such a life that he could expose himself and still never lose his dignity and his charm," said Cash's son John Carter Cash, who accepted the awards with Cash's daughter, Kathy Cash.
CMA voters -- about 5,000 industry insiders who belong to the association -- nominated him before his death for best single and video for "Hurt," a song about drug addiction written by Trent Reznor of Nine Inch Nails.
Cash also was nominated for best album ("American IV: The Man Comes Around") and vocal event of the year for "Tears in the Holston River" with the Nitty Gritty Dirt Band.
The "Hurt" video underscored Cash's frailty by contrasting images of a young, robust Cash from concerts and movies with new footage of the weathered and gray singer crooning, "You can have it all, my empire of dirt."
Cash has now won nine CMA awards, the last coming in 1969 when he won a then-record five awards. Since then that record has been tied by Vince Gill and Jackson.
"I don't believe it's a token recognition," John Carter Cash said. "This is about a great impact in the history of music."
Jackson won three awards, including vocal event of the year for his hit duet with Jimmy Buffett, "It's Five O'Clock Somewhere." Jackson also won male vocalist of the year and entertainer of the year -- giving him 16 career CMA awards. Gill, who hosted Wednesday's show, holds the record with 18.
"Thank you, Alan Jackson -- I'm glad I can help your struggling career," Buffett joked. "It was about 31 years ago I came to this town to pursue my musical madness. I never won anything for anything, and it's great to do it here."
Jackson said, "Thank you, Jimmy. No problem."
Martina McBride got the nod for female vocalist of the year over Dolly Parton, Patty Loveless, Alison Krauss and Terri Clark.
"I'm so honored to be in this category," McBride said. "Dolly Parton, my God, she's my female vocalist of the year every year."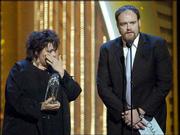 Toby Keith led all nominees with seven but was shut out. Keith was nominated for best entertainer, male vocalist, and album of the year for "Unleashed." "Beer For My Horses," a collaboration with Willie Nelson, was nominated for best song, single, music video and vocal event.
The Dixie Chicks, country music's most controversial act this year, also were shut out. The group was nominated for vocal group and album of the year for "Home."
Singer Natalie Maines upset many country fans earlier this year when she told a London audience shortly before the Iraq war that the group was "ashamed" President Bush is from her home state of Texas.
Maines apologized for the phrasing of her remark, but some radio stations banned the group's singles.
The Dixie Chicks did not attend the show.
Entertainer of the Year: Alan JacksonFemale Vocalist: Martina McBrideMale Vocalist: Alan JacksonHorizon Award: Joe NicholsVocal Group: Rascal FlattsVocal Duo: Brooks & DunnSingle: (awarded to artist and producer): "Hurt" -- Johnny Cash, produced by Rick Rubin, Lost Highway RecordsMusician: Randy Scruggs -- guitarAlbum: (awarded to artist and producer): "American IV: The Man Comes Around" -- Johnny Cash, produced by Rick Rubin, Lost Highway RecordsMusic Video: (awarded to artist and director): "Hurt" -- Johnny Cash, directed by Mark RomanekVocal Event: Alan Jackson and Jimmy Buffett -- "It's Five O'Clock Somewhere"Song (awarded to songwriter and primary publisher): "Three Wooden Crosses" -- Doug Johnson/Kim Williams, Mike Curb Music/Sweet Radical Music/Sony/ATV Tunes