Thursday, November 6, 2003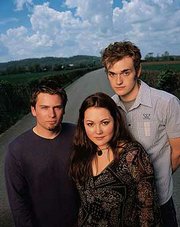 The scorching bluegrass licks and smoldering songwriting of San Diego trio Nickel Creek didn't quite prepare the members for exposure to some genuine heat.
"We were flying back home last week from Nashville and they shut down all the airports in Southern California, so we had to stop in Phoenix," recalls Sean Watkins, guitarist/vocalist for Nickel Creek.
While waiting in line to rent a car with his younger sister Sara (who plays violin and sings in the band), the pair heard a gentleman offer to drive anyone to San Diego in a van he'd rented. Turns out the man was a firefighter who was desperately trying to return so he could battle the blazes.
The Watkins jumped in the vehicle -- along with three other strangers -- and made the six-hour trek home.
"We drove back right through the fire," he says. "It was very impressive, these huge mountains on fire. All that smoke. Crazy."
Likewise, in terms of music, Nickel Creek has been on the hottest ride of any band to emerge from the contemporary bluegrass scene.
Past Event
Sunday, November 9, 2003, 8 p.m.
Liberty Hall Cinema, 644 Massachussets Street, Lawrence
All ages / $20 - $25
Watkins, his sister Sara and mandolinist/vocalist Chris Thile have performed together since 1989, when they were 8- to 12-year-old prodigies. The kids plugged along, showcasing at festivals and competitions until they were signed by Sugar Hill Records around the time they were old enough to vote.
Things began to really heat up in 2001 when Time magazine selected the group as one of five true music innovators for the millennium. "To hear Nickel Creek is to hear the vibrant reinvention of a classic form," the publication proclaimed.
"Any time an article comes out like that you really have to NOT pay attention to it," says Watkins, calling from Chicago, where the band is taping an episode of the TV show "Soundstage."
"We just tried to go about our music the way we always did. It was very nice, but we can't think about that sort of stuff. Because if it affects our music then we're not being honest."
Grammy time
With the critics firmly behind Nickel Creek, the public soon followed.
The band's eponymous debut from 2000 sold an astonishing 800,000 copies -- all the more unlikely for a contemporary bluegrass album with virtually no airplay on country radio. The trio followed that up last year with "This Side" -- also produced by bluegrass icon Alison Krauss -- which already went Gold and yielded a No. 1 topper on the Adult Alternative charts. The fact that the hit single, "Smoothie Song," was a bluegrass instrumental made the act's success that much more freakish.
Things only escalated in February, when Nickel Creek bested Steve Earle, Patty Griffin, The Chieftains and even Johnny Cash at the Grammy Awards in the category of Best Contemporary Folk Album. It was the band's first win after four previous nominations.
"It still feels just as good," says Watkins, whose only regret is that he didn't get to meet fellow nominee Cash. "It's an amazing honor. It's just mind-blowing."
Amusingly, the 26-year-old musician found a somewhat curious place to display the coveted statuette.
"I keep it above my toilet," he says, laughing. "It seems like a humble place. I didn't want to put it out in plain view of my house. I didn't feel like displaying it right when you walk in. It's a nice crown for the porcelain."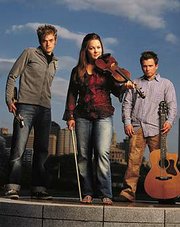 Enraging the traditionalists
Because the members of Nickel Creek have picked and plucked together for 14 years, they've been able to see the world of bluegrass blossom from a grassroots fanbase to mainstream acceptance. Like most of their contemporaries, they can thank filmmakers Joel and Ethan Coen, whose madcap movie "O Brother, Where Art Thou?" (and it's enormously successful soundtrack) was released within months of the three-piece's debut.
"For a long time, every article that was about 'O Brother,' we were mentioned in it," Watkins explains. "And every article about us mentioned 'O Brother.' It doesn't seem to be happening much anymore. But it was definitely good for us for a while to be associated with it."
Although, Nickel Creek was cited in the same breath as old-school bluegrass performers, many of the hardcore traditionalists didn't like the innovation that the band brought to the style.
"There are a lot of times when we'd get to a festival and it would be super traditional," he remembers. "It would be us and Ralph Stanley and Rhonda Vincent. There'd be people who were totally staunch traditionalists. It'd be like, 'Why did they hire us?' But we'd adjust our set a little bit. It never ended up being too bad."
As for those naysayers, Watkins claims he has little interest in how they view the band's recent success.
"Honestly, we lost those people a long time ago."
Now, like the Time article emphasized, the group is far more concerned with expanding the boundaries of bluegrass than recycling or glorifying the old ways. As much as "This Side" elaborated on the ensemble's first album -- what with amplifiers, string arrangements and even a cover of "Spit on a Stranger" by ex-Pavement frontman Stephen Malkmus -- Watkins admits the upcoming studio material is even that much more of a departure.
"There are some songs where Chris goes to drums and I play piano -- we treat it like a jazz trio," he says. "There's a general open-mindedness that traditional bluegrass bands CAN'T have."
But don't expect any horn sections, backup singers or a posse of dancers at a Nickel Creek concert. The act still revels in its stripped-down sound.
"It's just us and a bass player named Mark Schatz," he says. "With a four-piece, you can take off in any direction you want to go and not have to worry about breaking arrangements. We know each other so well. That's one of the perks about not having other musicians, especially a drummer."
As for a horn section: "That would be cool. But the more people you add, the less free you are."
It's that type of unconditional freedom that's allowed Nickel Creek to maintain the same lineup from childhood through adolescence to adulthood.
"We want to exploit all the potential we have -- and we're far from it," Watkins adds. "We need to write better songs and bring them to more and more people. When we feel like we've exploited it, we'll be done.
"Hopefully, with each album we'll see more and more improvement. It kind of feels like we're just starting. This next album feels like it's our first record. The first two were like preseason gigs."
More like this story on Lawrence.com