Fourth of July,
"Before It Rains"
Brendan Hangauer sounds like a man scorned.
On his first album as Fourth of July (he formerly fronted The Vespers), Hangauer plays the part of a two-timed lover obsessed with the complexities of his broken relationships. Each of the seven songs sounds like it was written either in a tearful, late-night fit of rage or right after waking up with a brutal hangover and a goodbye letter on the mantle.
The results are candid and often vulgar accounts of drinking too much, talking trash, making enemies, breaking up and waking up in unfamiliar places. On "Goodbye," a cheerless kiss-off to an ex-lover, he sings: "How the (expletive) did it feel?/In the morning/With him wrapped around you/Like the snake that he is."
Thankfully, Hangauer's band -- which includes Ghosty frontman Andrew Connor on lead guitar and The Anniversary's Justin Roelofs on drums -- provides respite from his spiteful lyrics. The backing quartet (which also features Hangauer's brothers Patrick and Kelly on upright bass and Rhodes organ, respectively) excels at creating a twangy Americana vibe to support Hangauer's raspy voice and simply strummed electric guitar chords. Connor's slide guitar contributes a ragged musicality to the group, while Roelofs proves adept at a low-key style of drumming (he plays guitar in The Anniversary).
On the surface, Fourth of July recalls indie folksters like Bright Eyes or Smog. A closer listen, however, reveals a more traditional set of influences, including Bob Dylan and Leonard Cohen. Hangauer's voice is stronger and more confident than on any of his previous bands' recordings; it practically begs for sympathy during the songs' most intimate moments.
"Before It Rains" works best on a sunny day as a reminder of how much better life is now than it was last night when you stumbled out of the bar and puked in the alley. For all the sad-bastard lyrical content, it's a surprisingly cheerful listen.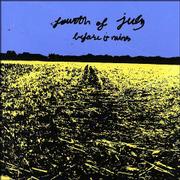 Red Guitar
"Based On a Blue Story"
One of the year's happiest local surprises is Kansas City's Red Guitar, a charmingly simple Midwestern guitar-rock band that does all the little things right. Venturing into Tom Petty-esque Americana might spell disaster or blandness for less capable bands, but Red Guitar pulls it off with gritty songwriting sensibilities, spotless harmonies and exacting arrangements.
From the first note, it's clear that "Based On a Blue Story" is a debut album in name only. All of the players have spent time in other K.C. bands (though the band's bio doesn't actually say which ones) and the project's production is top-notch. The album starts with a trio of would-be hits -- "Jump Out In the Water," "Inarticulate Blue" and "Let's Go Out" -- all of which recall The Jayhawks or Pernice Brothers. The group's two singer/songwriters (John McKenna and Nick Nave) are virtually indistinguishable, using their gentle voices to harmonize and carry the melodies.
The record drags a bit through the midpoint, but perks back up with the banjo-driven "Better Way to Move On" and the outstanding "California," a Petty-esque ballad with a killer acoustic guitar hook. "Aurora" closes the album on a high note, with delicate piano and an uplifting chorus.
Red Guitar is the sort of band you might happen upon at a festival and actually put your chili dog down to listen to. The group won't be winning any hipster points for originality, but it is certainly endearing enough to soften even the most jaded of listeners.