What's the worst thing that can happen to your dirty little secret?
Someone writes an illustrated book about it.
Sorry, Union Station.
This week, "Union Station," a graphic novel written by local comic book artist and writer Ande Parks with art by Uruguay's Eduardo Barreto, hits the shelves and tells all the gory details of the 1933 Union Station Massacre, a wild shootout that left five dead and was a catalyst for creating the modern-day FBI.
Parks, a 14-year comic veteran who lives in Baldwin, is best known for his current work as the inker on Green Arrow for DC Comics. This venture into true crime was inspired three years ago when the writer/artist read Alan Moore's "From Hell," a fictionalized retelling of the Jack the Ripper story -- which was later adapted for the big screen under the same name and starred Johnny Depp.
"It hit me that Union Station was in my back yard ... I knew a little bit about the massacre, but like most people, not much," Parks says. "I researched the project for two years before I pitched the story, and then it took a year to execute the project."
Though Parks is nervous about his labor of three years making it into stores, he has been reassured by the rave reviews it has already received from such sources as the Washington Post -- who said that readers would finish "Union Station" wishing the TV show "CSI" was as good.
He also isn't so sure the folks at Union Station will welcome the project with open arms if he tries to do a book signing at the renovated railway station. The impression the author gets is that the massacre is a slightly taboo topic there.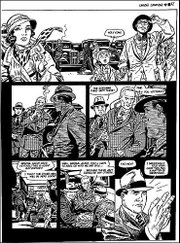 "The policy seems to be to pretend it didn't happen. I don't know why they'd be embarrassed. I think there should be more there commemorating it," Parks says. "Upstairs, there's a big timeline going into great detail on the restoration but only dedicating one index card to the massacre. But it has to be in the top two or three things to ever happen at Union Station, arguably in the top two or three historical events in Kansas City."
For those people who know little about the massacre, the short of it is this: In 1933, Frank Nash, an escaped convict, was being transported by police and two agents of the Bureau of Investigation to Leavenworth Penitentiary after being apprehended in Hot Springs, Ark. As they arrived at Union Station, three or four gangsters, one of which has been speculated to be Charles "Pretty Boy" Floyd, met them to free Nash. A gruesome machine gun shootout ensued, with four officers and Nash all dying.
The short-term effect was a horrified Kansas City. The long-term effect was J. Edgar Hoover seizing the moment to increase the power of the Bureau of Investigation -- which, at the time, wasn't even allowed to carry weapons -- and changing the Bureau into the modern-day Federal Bureau of Investigation.
"The organized crime going on at the time was seemingly accepted by the people -- until this," Parks says. "Hoover pinned the crime on three men, including Pretty Boy Floyd. But in my telling of the story, they weren't even there. Hoover used him because he was a famous gangster, and he knew that would get him PR points."
The black and white graphic novel is being published by Oni Press. It's 116 pages and costs $11.95.
"It's going to be very rewarding to see this book come out," Parks says. "Inking comics is great, but it doesn't satisfy every creative urge. I'm also excited to have this come out and live in this area, where people can go to Kansas City and actually see where this all happened."