Monday, November 10, 2003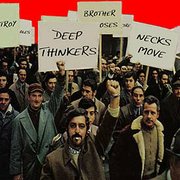 I'm starting this review with some thoughts about sound because once you hear the sound quality of this Deep Thinkers album, sound will be on your mind too! EPIC is the word that came as I listened. Sound so vast it feels like it's all over ya (CINEMATIC). Mastered at Neighborhood Studios this CD carries a bell clear sound. I like my sound a little grimy for the warmth but, that's my ears, ask yours how they feel about it as you listen. (Nor was it lost on me that Necks Move was engineered at the Sweat Factory with beat broker and Lenny D.)
Movin' on to the music let me say that Lenny D as a beat-maker has brought a jazzier feel to this album. Drivin' beats and pristine precision is here steady as ever, and his turntablist skills are present on a couple cuts.
"Kiss the Sky" had me trippin! I wanted to call and ask Lenny D if he had six hands and two brains. The collaboration with Commute on the album's last track, "Search and Dstroy," had me visualizing a dancehall. Next thing I knew, I was up, prancing around the room and very glad no one saw me. I had fun.
If you liked the food-for-thought lyrical style of Brother of Moses on the Deep Thinkers debut album "Outlook," "Necks Move" won't disappoint you. The opening track, "Building," invites us to leave our homes and get involved wherever there is a need. "Rock the Beat" carries a challenge for hiphop to be authentic and the hook spells out clearly how to keep it real. Other topics covered include domestic violence, conformity, and this country's use of war for gain.
An added dimension is what I like to think of as Brother of Moses' (BOM) "personal anthems." "Do Your Best" and "Stand Strong" offer encouragement to hold your head up, keep going, and speak to things you feel strongly about that may not be popular.
Three MC collaborators bring additional textures to the Deep Thinkers latest efforts. "Kansas City" and its bluesy beat has BOM and Mac Lethal making it clear their pride and reasons for bein' from Kansas City, while interruption With Substance (BRINGS FORTH SOMETHIN FROM NOTHIN) teams BOM and Joe Good for a reflective mood piece that takes you deeper with thoughts like "YOU keep me inside/YOU bring me outside" (ENJOY THAT DAY GO'N OUT AND PLAY). Movin'On teams Approach and BOM in a song that I think of as a party vibe with a message of personal integrity.
A total of 15 tracks with solid skill, lyrics and sound, get this music let it move you body and brain. Let BOM's questioning spur you to action while Lenny D moves you feet. Enjoy that day, go'n out and play...
Peace
To submit your reviews of this or other local albums, email them to homies@lawrence.com