Tuesday, November 11, 2003
After FIFA 2003, it would be hard to imagine yet another major improvement for 2004. But Winning Eleven 6 from Konami came out and suddenly everyone forgot about FIFA. With tighter control and better AI, FIFA returns this year and makes itself truly competitive with the Konami effort.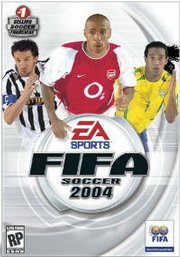 What do we get this year? Over 350 teams. The roster is so deep that basically only the leagues with licensing strangleholds were not included. We also get a defense that's harder to penetrate close to the goal. Gone are the arcade style runs straight up the middle for a score and in are the more realistic last-second shots from the side. The defensive line AI reacts so much more like a real team, with most of the showboating only possible at midfield.
This year you can also control a separate player while you are dribbling the ball to make the play more accurate and immersive. Kudos to you EA. Also if there ever was a sport that needed to be seen or played in widescreen it would be soccer. EA grants that wish and it really helps the perception of the entire game.
The new Career mode is adamantly welcomed and adds a much-needed element of depth, keeping players coming back for more especially online with the PS2 version.
The control overall is much improved over 2003 but still could use polish, especially in the light of the wonder that was Winning Eleven 6.
FIFA 2004 continues along the improvement path and delivers EA's best effort yet, if still not the best soccer game out there.
Graphics: B+
Sound: B+
First Play: B
Last Play: B
Gameplay: B
Overall: 85% B