Tuesday, November 11, 2003
Harry Potter fans who have been intrigued by the fictional sport of Quidditch now have a video game to satisfy their interest. Although it's nowhere as deep as, say, a Madden game, it does get more attention to detail than some EA Sports games like Rugby.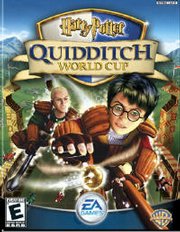 Quidditch is a game where you must throw the quaffle (a ball) into one of three rings that your opponent's keeper is guarding. There are seven players on a team. Three "chasers" are responsible for passing and shooting. A keeper guards the rings. Two "beaters" are responsible for batting the "bludgers" away from the team. Bludgers are random spheres that knock the players off their broomsticks. Finally there is a "seeker" whose sole job is to chase and catch a "snitch," a golden sphere that hides and scurries around the arena at the end of the game.
You get ten points for a quaffle goal and 150 points for catching a snitch at the end. This is one of the biggest gameplay pitfalls of the sport. In the regular part of a game, you may score 80-100 points. Since the snitch is always worth 150 points, it almost always comes down to that element alone. It makes playing the regular game seem pretty pointless.
Stealing the quaffle and scoring is too easy. You basically fly in the vicinity of your opponent and mash on the steal button and the stealing mechanic starts fairly far away from the quaffle. Plus, there is no real sense of speed or intensity like the movies portrayed which makes playing dull at times.
In Chamber of Secrets, you could move up and down when playing Quidditch. In this game, your vertical movement is fixed, detracting from the maneuverability and special moves and combos you may learn.
The game does look great with some nicely modeled arenas in different parts of the world. The cutscenes are amusing and the sound is crystal clear, doing a good job recreating the Potter atmosphere.
All that being said, there is a degree of fun to be had, especially for the younger demographic since the basic gameplay elements are pretty simple and intuitive. Not a must-have for Potter fans, but you may want to rent it to make sure.
Graphics: B+
Sound: B
First Play: C
Last Play: D
Gameplay: C-
Overall: 70 C-