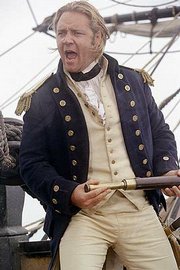 HOLLYWOOD -- If some are born to command, Russell Crowe was born to play commanders. Few actors can be as convincing as leaders of men, and to see Crowe as Captain Jack Aubrey in "Master and Commander: The Far Side of the World" is to see a consummate performer doing what he does best.
Whether he's peering through a spyglass, standing straight up in the rigging, looking nonchalant in the face of gale force winds or barking incomprehensible but forceful nautical commands, Crowe's Aubrey has an unflappable self-confidence. Ease is a great thing in an actor, and when it's combined with Crowe's stated intent to play this 1805 British sea captain as someone "not always right but always certain," the result is a performance that shows how much impeccable physical presence can accomplish.
Directed by Peter Weir from a script he co-wrote with John Collee, "Master and Commander" intends to be an intelligent epic, but it's the epic qualities more than the intelligence that hold us. While Crowe is the rare heroic actor who can handle any kind of psychologically complex role (witness "The Insider" and "A Beautiful Mind"), he's not really called on to do that here. That the film succeeds despite a relative lack of depth and emotional involvement shows how powerfully effective it is in doing what it does best: re-creating an extended nautical duel between Aubrey's HMS Surprise and the French (changed from the American in the original novel) privateer Acheron.
"Master and Commander" is based on two of the 20 novels written by Patrick O'Brian in a series called the Aubrey-Maturin novels after the captain and his best friend and shipmate, Dr. Stephen Maturin (played by Paul Bettany). As an article in the Writer's Chronicle concludes, "Perhaps only the Harry Potter books and 'The Lord of the Rings' have inspired literary cults with more zealots and accessories."
In addition to some 3 million copies of the novels, devotees, writes D.W. Fenza, can choose from "two sets of unabridged audio recordings; two CDs of classical music favored by fiddle-playing Captain Aubrey and cello-playing Stephen Maturin; numerous Web sites; a CD of seafaring songs favored by Aubrey's shipmates even a cookbook, which reveals the artery-occluding recipes of Jack Aubrey's favorite puddings, Spotted Dog and Drowned Baby."
Perhaps the most essential accessory is "A Sea of Words: A Lexicon and Companion for Patrick O'Brian's Seafaring Tales," which defines more than 3,000 (out of a potential 8,000) of the book's "arcane and complex" words and phrases. This overwhelming specificity points to one of the novels' key lures: Written by a man who felt "authenticity is a jewel," these books re-create the all-male universe of naval warfare during the Napoleonic era down to the smallest detail, making a world that is so tangible it's easy for readers to get lost in it.
Movie
Master and Commander: The Far Side of the World
***

Russell Crowe headlines this "wooden ships and iron men" epic about a British naval captain ordered to pursue a superior French privateer. Director Peter Weir ("The Truman Show") stages combat scenes so realistic that the viewer will feel like part of the crew -- the sounds of the cannonballs alone are worth buying a ticket.
Veteran Australian director Weir, whose career extends from home country classics like "Picnic at Hanging Rock" and "The Last Wave" all the way through "Witness" and "The Truman Show," has gone to extraordinary lengths to capture on film that enticingly detailed world and, using a variety of methods, he's succeeded admirably.
For starters, "Master and Commander" has been well cast, using mostly unfamiliar British actors to play the Surprise's key personnel, all of whom are very busy doing things we may not understand but intuitively follow. The same care extends to the selection of extras to play the background crew, with casting associate Judy Bouley looking at some 7,000 people to find the 100-plus most authentic-looking faces.
"Master and Commander" also paid attention to getting the smallest of physical objects right. Buttons were ordered from a button-caster who's been in business since the 1770s; shoes were based on a well-preserved 1806 model; and Monmouth knit hats were made by a Welsh woman whose family has been making them since the 1700s.
This may sound fanatical to the point of derangement, but in the hands of Weir, his cast and production designer William Sandell, all this detail has an unmistakable cumulative impact. We really feel we're on the Surprise; we struggle with the close quarters, the claustrophobia and the cabin fever just like the crew does, and that adds a level of intensity to the viewing experience.
Most intriguing of all, "Master and Commander" delivers this degree of authenticity without going to sea at all. Though footage shot by a tall ship caught in a real-life around-the-Horn tempest was used in this film's convincing storm re-creation, the picture itself, beautifully photographed by Russell Boyd, was to a great extent shot in the same 6-acre tank in Mexico where James Cameron sank the Titanic.
The production's superlative visual effects crew, working with Asylum (which did the storm) and Industrial Light & Magic, used 735 effects shots to work its magic -- providing, for instance, the Acheron with rigging. Upward of 40 layers of waves and sky were used to compose a single picturesque frame. This use of CGI to mimic reality was something with which director Weir, who called it "approaching the divine, daring to impersonate nature," was understandably proud.
"Master and Commander" begins with something else the filmmakers do well, and that is a rousing battle between the two ships, an encounter in which Aubrey's Surprise, being much the smaller of the two, is very much at a disadvantage. Weir and company have well-orchestrated the bloody chaos of on-board combat, as well as the primitive conditions that ship surgeons like Maturin routinely worked under.
"Master and Commander" is intent on making a conflict between good friends Maturin and Aubrey its emotional centerpiece. Maturin, the rational man of science, is set up as the audience surrogate, and when he gets concerned that Aubrey is getting obsessive in his pursuit of the Acheron, letting his personal grudge against the French vessel drive him to disregard the safety of his crew, we are supposed to get caught up in the clash. We do, but only to a limited extent.
That's because, frankly, Crowe has done such powerful work of making Aubrey heroic that even Bettany's strong acting as the doctor can't make a dent in our regard, especially when his complaints revolve around what feels like the small potatoes issue of Maturin's being denied a scientific visit to the Galapagos Islands that he was so looking forward to.
We've seen Aubrey being gracious and kind to a wounded boy midshipman (a poised Max Perkis), we've noticed how the crew respects their "Lucky Jack," we've even heard him make "Captain Blood"-type speeches ("I know there's not a faint heart among you") surprisingly convincing. That this man could be a kind of Captain Bligh is simply out of the question.
"Master and Commander" in a sense recognizes how strong a character Aubrey is by attempting to turn him into his own worst enemy: what worthier, more dangerous opponent could there be? But while power might corrupt lesser men, there's not a chance here, and that turns out to be "Master and Commander's" point of vulnerability as well as its greatest, most enviable strength.