Friday, November 14, 2003
Editor's note :: The following is the full version of the story as intended by the writer vs. the hacked-up version that ran the Deadwood Edition #17. Thank you.
What do Andrew WK, Belle and Sebastian, Phantom Planet and Spiritualized have in common?
1. They could all draw a thousand people in major cities.
2. They all played Lawrence last week.
3. None of them played Omaha last week.
"We probably get five shows for every one Omaha gets," says Brett Mosiman, owner of The Bottleneck and Pipeline Productions.
For a town with a fourth of the population and considerably less hype than much publicized Omaha music scene, Lawrence is still the big daddy of the Great Plains when it comes to live music. Some nights, the most difficult part of going out is narrowing down your options.
As far as music fans and bands are concerned, there's no time like the present for live music in Lawrence. But for the promoters behind the scenes, the thriving music market comes with a catch: the law of supply and demand.
"For Lawrence to have to have the volume of shows it has is a mixed blessing," Mosiman says. "It's great for Lawrence culture-wise but it's hard for the promoters 'cause we're splitting the pie six ways."
Edwin Morales and Alison OlewnikDownplay Productions
Venues I book for :: The Pool Room, others
Recent shows I've done :: Visionaries, Prefuse 73, Prince Paul
Three favorite shows I've done :: DJ Z-Trip and DJ-P, recent Halloween show (feat. Mac Evil, The Esoteric as a Misfits cover band and Contra Naturum), Prefuse 73
One thing I do better than anyone else :: Having a personal connection with fanbase
If I could book my dream show, it would be :: Prince
Jacki BeckerEleven Productions
Venues I book for :: Lots of venues in Lawrence, KC, Omaha, St. Louis, Oklahoma City
Recent shows I've done :: Belle and Sebastian, Atmosphere, Cursive, David Sedaris
Three favorite shows I've done :: First Jayhawk Music Festival, David Sedaris, Get Up Kids Tour
One thing I do better than anyone else :: Be efficient
If I could book my dream show, it would be :: Led Zeppelin
Josh HuntEleven Productions
Venues I book for :: Tons of venues all across the Midwest
Recent shows I've done :: Insane Clown Posse, AFI, Cradle of Filth, Stryper
Three favorite shows I've done :: Hepcat @ The Bottleneck, Incubus and System of a Down @ Safari Club (a 400-capacity club in Des Moines), Travis @ Liberty Hall
One thing I do better than anyone else :: Work with a diverse set of bands
If I could book my dream show, it would be :: Morrissey, The Smiths, The Cardigans, Portoisehead, Cinderella (all in one show)
Jesse JacksonAphrodisiac Productions
Venues I book for :: Lots
Recent shows I've done :: Talib Kweli, TechN9ne, KRS-One, The Marleys
Three favorite shows I've done :: Lee "Scratch" Perry @ Granada, Parliament @ Liberty Hall, KRS-One @ The Bottleneck
One thing I do better than anyone else :: Push the envelope to bring interesting acts to town
If I could book my dream show, it would be :: Ravi Shankar
Terry TaylorPipeline Productions
Venues I book for :: The Bottleneck
Recent shows I've done :: Andrew WK, Supersuckers
Three favorite shows I've done :: Fugazi, Misfits, Tori Amos
One thing I do better than anyone else :: Be friendly to work with
If I could book my dream show, it would be :: Nick Cave
Brett MosimanPipeline Productions
Venues I book for :: Bottleneck (also owner), Beaumont Club, City Market, others
Recent shows I've done :: Eels, Built to Spill, Hot Hot Heat, Soundtrack of Our Lives
Three favorite shows I've done :: Mike Watt (with special guests Foo Fighters and Eddie Vedder), Freedy Johnston and Dave Pirner (Sould Asylum) impromptu David Bowie medley, Johnny Cash @ Lied Center
One thing I do better than anyone else :: Treat people fairly
If I could book my dream show, it would be :: Van Morrison
Jeremy SidenerEigth Street Tap Room
Venues I book for :: Eigth Street Tap Room
Recent shows I've done :: Franklin Bruno, Rebecca Gates, Arthur Dodge
One thing I do better than anyone else :: Be hospitable to bands ("There's never been a band that played here that hasn't enjoyed it.")
If I could book my dream show, it would be :: Kraftwerk ("Because the place is small and they don't have much gear")
"You go to Athens (GA) or Columbia (Mo) -- two very comparable college towns -- instead of six
national buyers competing for shows and doing shows, there's one or two ... What should sell out in this town might do 50 percent business because people are choosing between six, eight, ten shows in a two-week period."
Healthy competition is only part of what makes it so difficult to survive in today's live music market. Promoters must confront a series of new challenges -- rising ticket prices, high insurance costs, competition from multi-million dollar corporations, a decline in disposable income -- that threaten to put them out of business. To compete in the new market, they must find ways to adapt and develop their own niche.
Though the people portrayed in this article by no means represent all of the diverse and hardworking promoters working to keep Lawrence on the radar, they do represent a cross-section of the new blood responsible for a revival in the local live music scene. Whether your bag is British black metal or Brooklyn glitch-hop, these are the people who make your Friday nights rock (or bounce, bop, slam, bump, thrash, boogie, etc.).
No more corporate rock
Two years ago, Jacki Becker and Josh Hunt were the guinea pigs in a great experiment. House of Blues Entertainment -- the second largest live music promoter in the world -- was attempting to extend its reach into the Midwest. Even though there was no HOB venue in the Midwest, the company would hire experienced area promoters like Becker and Hunt to coordinate shows in non-owned venues. In return, Becker and Hunt would get regular paychecks for the first time in their careers.
"It felt like a lot of burdens were going to be taken off of us," Hunt said. "All of a sudden I'm like, 'I'm going to have health insurance; I'm going to get a paycheck; I can go to the dentist.'"
In their first year with HOB, Becker and Hunt (along with former Avalanche Productions owner Jeff Fortier) booked and produced more than 400 concerts. Hunt used his old ties with bands like Static-X and Slipknot to become one of the premier nu-metal booking agents in the Midwest, while Becker traveled state-to-state coordinating shows and running up cell phone minutes.
But as quickly as HOB came into the area, the corporation left, sighting low revenue and the lack of a HOB venue in the area.
According to Becker and Hunt, the parting was mutual.
"I think Josh and I both agreed that we weren't corporate people," Becker says. "There's a lot of paperwork. The people are located in LA. They don't know Lawrence, KS."
Facing a fork in the road their respective careers, the two promoters chose different paths: Hunt moved to Cleveland to work for a newly acquired HOB venue, while Becker remained in Lawrence and started her own production company called Brightmachen.
For Hunt, the new gig was a disappointment. The creative liberty to book and produce his own shows had been replaced with mountains of paperwork and a list of shows to do dictated from higher-ups in the company.
One year after leaving Lawrence, Hunt was done with corporate rock. He moved back to Lawrence and started Eleven Productions with Becker.
The key to Eleven's survival lies in being able to book bands throughout the Midwest. Since neither Hunt nor Becker own a venue, they have no bar tabs to fall back on and must maintain a steady flow of profitable shows. So far, they have done just that, booking bands in ten cities across six states.
"There are so many people in Lawrence promoting shows right now, there's not a lot of gaps to fill," Hunt says. "It's been a really good year for us so far (knocks on desk), but it's also really hard work."
Both promoters' bread-and-butter is their relationships with bands and booking agents. Those relationships are what allowed Hunt to stay with Insane Clown Posse as they rose to Juggalos-all-up-and-down-Mass.-St. fame, and what allowed Becker to stay with buzz bands like Dashboard Confessional, Thursday and Thrice.
"It's not like we're David trying to slay Goliath," Becker says, referring to leading corporate music promoter Clear Channel. "We're trying to keep our niche and book bands at a small level and develop them."
One reason Becker is able to maintain an optimistic outlook is because the cards have been falling her way lately.
"Everything is cyclical and right now is a good time to be doing music," she says. "Granted, we are in a recession and the first thing that goes when you're on a budget is entertainment, but there's a lot of kids out there, and a lot of music that we do (such as Dashboard Confessional) is suddenly getting played on MTV and the radio."
Both Becker and Hunt say the biggest challenge facing them currently is rising insurance rates and apprehension about going to see shows in the wake of recent club disasters in Chicago and Rhode Island.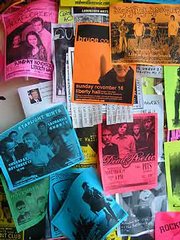 "You have parents and people all panicked and concerned that clubs across the country aren't safe when 99.9 percent of them every single day are totally safe," Becker says.
Becker and Hunt also must adapt to rising costs to get bands to come and play. At $22, Belle and Sebastian's Nov. 4 show at Liberty Hall was Becker's most expensive ticket ever. But she says it's a trade-off that allows otherwise unreachable shows to come to town.
"Ticket prices are going up because bands are demanding it and the fans still pay it," she says. "Didn't you want to see Belle and Sebastian here? I sure as hell did. It was either do that or they were going to skip, and I want Belle and Sebastian and I will do what it takes to get them here."
Hip-hip hop and ya don't stop
If Becker and Hunt are the cunning veterans of the Lawrence promoter scene, Edwin Morales and Alison Olewnik -- founders of Downplay Productions -- are the rookie-of-the-year candidates.
When Morales and Olewnik were teenagers growing up in Manhattan, their friends' parents would frequently drive them to Lawrence to see shows. The type of shows they came to see, however, may surprise people who know the duo as the team behind Lawrence's healthy hip-hop and electronica scene.
"We used to both be huge ska fans," Morales says proudly. "I used to wear a three-piece suit every day for like a year and a half."
These days, with his natty hair spikes and full-neck beard, Morales more resembles a Survivor outcast than a rude boy. He's easy to spot even in the dim light of The Pool Room, where he can be found every Friday night (usually aside Olewnik, his girlfriend and business partner) reveling in the shows he helped bring to town.
"We're doing what we've dreamed of," Morales says. "If everything were to end right now we would walk away with a smile 'cause we did what we wanted to do."
Morales and Olewnik are the promoters behind Project Groove, a weekly event that single-handedly transformed the Pool Room from a good-ol'-boys watering hole to one of the most respected hip-hip hop venues in the Midwest. In addition to packing the house for local artists like Mac Lethal, SoundsGood, Approach and Archetype, Project Groove has helped bring dozens of well-known national hip-hop acts (Ming & FS, Blueprint) to the heart of the prairie. The night has also served as a home for area break dancers, who turned out in droves for three 'Bulldog' battles.
The success of Project Groove has allowed Downplay to branch out and do shows at larger venues: Prince Paul at The Bottleneck, MC Paul Barman at Abe and Jakes, Prefuse 73 at the Granada and DJ Z-Trip at the Pool Room. Morales hosts a Thursday-night eighties dance party at La Tasca called Neon. He even found time to book a national tour for DJ-P, Mac Lethal, Approach and Archetype.
"A year ago, half the time we were losing money and half the time we were breaking even," says Morales, who also spins records under the name DJ Konsept. "Now it's kind of like breaking even and sometimes making money."
Money was never the driving factor behind Downplay's creation, however. Morales and Olewnick formed the production company (then known as Atreides) two-and-a-half years ago because they wanted to revive the Jayhawk Music Festival (which had been defunct since 1998). When they realized they were in over their heads, the duo refocused on smaller events, booking a weekly electronica night at Kansas City's Spark Bar and local one-offs with diverse lineups that threw rock bands, jam bands and hip-hop groups in the mix.
Project Groove's success is even more surprising given the off-the-beaten path location of the club (9th and Iowa behind the Community Mercantile).
"Those five/six blocks are the most difficult place for people to come out to," Morales says. "They will not go to the Pool Room, because it's there. Which I understand; a lot of these kids are on foot."
To compensate, Downplay must invest that much more effort into promoting events; a task which has become much easier since adding a five-person street team. Until that happened, Morales and Olewnick spent part of nearly every day flyering in Lawrence and Kansas City.
"At the close of the bars we would just rotate and one person would take one side of the street, the other person would take the other side to hit up the crowds downtown," Olewnick says. "We got our flyers everywhere they could possibly be seen."
Even in passing put handbills, Morales holds a high standard for proper etiquette.
"If someone's having a negative attitude that day, I don't want them to go out and handbill because that feeds into the way they give flyers out," he says. "If you're into to it, the person that receives it will be too."
Tightening the noose on the 'Neck
Terry Taylor may be the most straight-laced barfly in town. A non-drinker all his life, Taylor -- a talent buyer and show promoter for Pipeline Productions -- hits the office at 10:00 a.m. every morning, fielding calls from agents and massaging show contracts. Taylor's job is simple on the surface: fill The Bottleneck calendar with bands that will fill the bar with people. But once the contracts are signed, the real fun begins: figuring out a spot for the band to park its tour bus, getting the band fresh towels and bottled water, making sure the band has a 12-pack of the rare German beer it requested, coordinating sound check and generally making sure the whole thing doesn't fall apart.
It's a challenge Taylor has been up to since he began booking hardcore shows in his hometown of Sioux Falls, South Dakota in his early teen years. At the ripe age of 14, Taylor was already out on the road touring with his band Face of Decline.
"For some reason all these bands just started giving people my number saying I book shows in Sioux Falls - which I didn't," he says. "So I just started renting Masonic Temples and VFW halls ... next thing I know I'm bringing in Green Day and the Offspring."
Granted, those were the days before the aforementioned bands sold millions of records. But when Green Day's "Dookie" and The Offspring's "Ignition" turned the bands into mall-culture icons, Taylor suddenly became the agent responsible for booking them into 10,000-seat arenas.
"It was a hobby that just kept going and going and going," Taylor says. "I'm the only person that ever did anything there."
Since moving to Lawrence in August, Taylor has given The Bottleneck an organizational facelift, pasting load-in and sound check times up with the precision of an army general and wallpapering the bar with show flyers.

"He's tightened it down," says bartender Andy Morton. "You can't move without seeing a flyer he put up an hour before."
In addition to booking national bands, Taylor is making a concerted effort to set up local shows and put local bands on bigger shows.
"I really want to get back in with the local bands, 'cause they're the ones in the end who are going to keep people coming back," he says. "They want you to succeed as much as you want them to succeed."
Taylor said the hardest part of attracting local bands to The Bottleneck was paying them adequately. Bands that play The Bottleneck must cover the cost of running sound, as opposed to playing at smaller venues like the Replay Lounge and Eighth Street Tap Room which pay bands 100 percent of the door.
"The thing with a club like The Bottleneck, when you get into the 500-capacity thing you have more expenses," he says. "It's a hundred and fifty bucks just for us to open up the door and turn the PA on and to pay sound guys and maintenance."
Survival of the wittiest
If there's one person qualified to talk about live music in Lawrence, it's Brett Mosiman. Since buying The Bottleneck in 1985, Mosiman has been the driving force behind legendary shows like Radiohead, Oasis, Trip Shakespeare, and thousands more. Pipeline has also promoted hundreds of shows in Topeka and KC, from Johnny Cash to the Flaming Lips.
Mosiman still books many of the premier shows in the area, but his job has become increasingly difficult over the past few years thanks to competition from House of Blues and Clear Channel.
"My distaste for how business is done in this industry is very high," he says. "The two big promoters in this country have a business model of just being outrageous bullies."
Thus, whereas Mosiman used to be able to develop and retain fast-rising bands, he now must face the prospect of outbidding multi-million corporations for the rights to promote a show.
"They commonly lose money to steal talent (bands) from small promoters," he says. "You can't blame the bands for taking more money, but then what would have been a $10 ticket at Liberty Hall turns into a $25 ticket at the Uptown, compliments of your good friends at Clear Channel."
But Mosiman does have some advantages in his corner. Since he owns The Bottleneck, he is able to sell tickets for face value. He also controls his own drink prices and doesn't have to charge people for the cost of renting out the venue.
"There's a niche for small promoters because they're real, and I think over time that'll win out," Mosiman says. "Throw-it-on-the-wall corporate rock sucks, and most people at the club and theater level know it."
"There's got to be a better way than an $8 service charge and a $5 handling fee and a $2.50 facility fee on top of a $20 ticket; and then you get there and you get $8 Keystone Light draws and $10 parking."
Though industry conditions often make his job challenging, Mosiman says he will continue to work in the business as long as he can keep his head above water.
"What Pipeline was always set up to do was to try to bring great live music to as many people for as cheap as possible," he says. "We'll continue to do that."
More like this story on Lawrence.com