Friday, November 14, 2003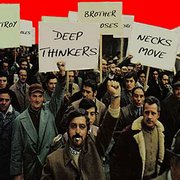 If you're gonna say something worthwhile in a song, you better back it up with an even better tune. That's a principle that has held to true for many great activist songwriters throughout the years -- Bob Dylan, Bob Marley, Rage Against the Machine -- and Deep Thinkers are no exception. Were it not for the first-class beatmaking of Kyle Dykes (a.k.a. Leonard Dstroy), Aaron Sutton's politically and socially charged diatribes might be hard to digest. As it is, the two create a potent mix that rivals any local or national hip-hop release.
"Necks Move" establishes Sutton (a.k.a. Brother of Moses) as the foremost "conscious" MC on the local hip-hop scene. Don't expect to agree with everything he says, but do expect to be challenged intellectually and musically. Don't expect an intermission either; Sutton is full-throttle from start to finish, waxing elaborately on self-empowerment, the corrupt prison system, degenerate world leaders, Kansas City, sexism, domestic abuse, wannabe-thugs...
Sutton never sounds like he's on a high horse, though. A minute after rapping on revolutionary activity, he comes back with "We Live In Kansas City," a hilarious homage to his hometown that features guest Mac Lethal and lyrics like: "In the house all day because there's nothing to do / Rent some movies, play a game, load a bowl, drink a brew." Sutton reaches a much more universal peak on "Do Your Best," a soothing cut that exudes positive lyical vibes like, "We could die today so make the best of it / Give thanks for the hits and the smiles of the kids."
Dstroy's transcendent sound collages have the rare ability to affect on both a cerebral and carnal level, mixing elements of jazz, funk, old-school hip-hop and Indian tribal music. He wears his electronic influences --- Amon Tobin, Squarepusher, Prefuse 73 -- proudly on his sleeve, injecting glitch and drum and bass elements into bumpin' club beats. Dykes' centerpiece is "Kiss the Sky," a mind-blowing electronica piece that pits broken lyrical samples against a bed of traditional Greek music on speed.
With 15 diverse tracks and crystal clear sound courtesy of Lawrence's
Neighborhood Studios, it's hard to find fault with "Necks Move." The only difficulty I had listening to the record was trying to keep up with Sutton's rapid-fire tongue twisters. Certain passages could benefit from fewer words squeezed between the beats, particularly since what he is saying is so worthwhile.
Otherwise, look for this release to really turn some heads and solidify Datura's rising reputation for putting out first-rate hip-hop.
RIYL: Black Eyed Peas, Blackalicious