Friday, November 21, 2003
Kelfel Aqui thought he could make Lawrence a 'tapas' town.
Seven years ago Aqui opened Coco Loco in the rental storefront on 943 Massachusetts, billing it as "Kansas's first and only Spanish tapas bar," offering a dozen or so of the appetizer-sized dishes. Now Aqui is selling the business (which changed its name to La Tasca in Sept. 2002), citing low revenue and the struggling economy.
"When you are an innovator, there is always that risk that the market won't catch on," Aqui said. "Maybe if we were here at another time we could still be open."
Three years ago, Aqui was approached by Nick Carroll about selling the business. Though he declined at the time, he ended up calling Carroll a few months ago to accept the offer. Carroll said he would reopen the business under a new name by February 1.
Besides offering Spanish and South American food, La Tasca was a popular destination for downtown nightlife. The club offered weekly dance nights -- reggae on Mondays, '80s on Thursdays and Latin on Saturdays -- in addition to performances from local bands.
Aqui, a native of Venezuela, helped spur interest in Latin music and dance through performances with his band Son Venezuela, which played frequently at the club. La Tasca also offered Latin dance lessons and courses on the history of salsa music.
"We were pioneers in Latin music in this part of the country," Aqui said. "Last time I counted, 11 different venues took a shot at the Latin music scene. None of them succeeded, but people stuck with us through that."
Aqui said competition from downtown businesses such as Chipotle was also a factor in selling the business.
Since finding out that the club was shutting its doors, a number of musicians have expressed thanks to Aqui for offering them a place to play.
"So many people have come up to me and said, 'Where are we going to play now?'" Aqui says. "I felt a lot of love from the talent that has played here."
One of La Tasca's most popular events of late was "Neon," a Thursday night '80s dance party organized by Edwin Morales and Alison Olewnik.
"I think a lot of why it was successful was because it was so small and intimate," Morales said. "People would dance with each other -- forcibly almost -- even though they didn't know each other."
On Friday Morales confirmed that "Neon" would be relocating to The Bottleneck starting December 4. He said it would continue on Thursday nights and would now feature 50-cent draws.
Musician Paul Winn, whose band RIVA played the venue four times, said he enjoyed playing La Tasca because it was easy to draw a crowd and put on a successful show.
"The great thing about it was that it didn't have a stigma about what type of music played there," Winn said. "I think I saw punk, ska, hip-hop and rock shows there."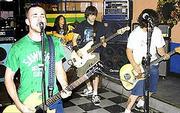 Aqui said he planned to continue in the restaurant business.
"I want to take a step back and see what is out there," he said. "I've been in this business so long that I feel like I can never leave it."
"I love entertaining; I love cooking; I love the people."
More like this story on Lawrence.com