Saturday, November 22, 2003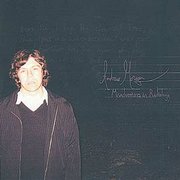 A review of Andrew Morgan's "Misadventures in Radiology" could be as simple as this: $10,000, two states, five years, 20 musicians, two months hanging in L.A. with Elliott Smith, one tornado and a giant bell tower.
If that doesn't seem adequate, however, perhaps a little explaining is in order. If you're looking for an impartial review of this record, you've come to the wrong place. Since meeting Morgan a year ago, I have come to be close personal friends with the man and now regard him as one of my favorite human beings. That said, these are a few reasons why I love this record so much (besides the fact that I play sleigh bells on a song).
First, a little background: I first met Andrew Morgan a year ago, while he was in town putting the finishing touches on his album. I remembered Morgan from a KJHK Farmer's Ball competition a few years earlier, where he had taken the stage with an acoustic guitar and cello player and nearly crumbled with stage fright. Morgan's stellar demo CD had perked up a bunch of ears at KJHK back then and had everybody wondering who this mystery crooner was.
When I met him last winter, Morgan was in town putting the finishing touches on "Misadventures." He had already begun making the record during a two-month session at Elliott Smith's "New Monkey" studio in Los Angeles (a eulogy to the recently deceased Smith is posted on Morgan's website). For the Lawrence sessions, Morgan would hire out KU symphony students to perform the exquisite arrangements that decorate the record. At the end of each day (barring technical difficulties or M.I.A. engineers), he would have added another piece to the puzzle: violin, cello, harmonium, French horn, accordion, harpsichord, organ, harp, glockenspiel, double bass and tympani.
Band songs
Andrew Morgan
The result is a $100,000-sounding record made on a $10,000 budget. The album's jaw-dropping string arrangements have the presence of a Rufus Wainwright or Fiona Apple album, but somehow never overshadow Morgan's strong song craft and chilling voice. Though each track is piled high with bells and whistles, the songs retains the spontaneous jazz vibe of the L.A. sessions (which were cut live with a jazz drummer and upright bassist).
Given the epic sprawl of the recording process, it's a minor miracle the album ties together so cohesively (props go out to local engineer Peter Buxton, who mixed the record). From the string quartet intro to the closing chord, "Misadventures" is a completely absorbing listening experience. The album's morose lyrics and dour chord progressions recall the darkly beautiful chamber pop of Elliott Smith or Nick Drake; like those artists, Morgan has the ability to transcend sadness with stirring melodies.
Morgan's voice, however, is truly the centerpiece of the record. From the hushed whispers of "Brushes to Bronze" to the mocking tongue of the title track, Morgan's vocals are as diverse and purposeful as the arrangements on his record. When he sings "Mawkish mother relegates her babe / Sent to bed because he can't behave," he makes you feel sorry for the boy.
But the defining moment of this record -- and the biggest testament to Morgan's dedication to it -- comes at the beginning of "This Awful Room." The ominous tolling bell is none other than KU's Campanile Tower, which Morgan ascended with the aid of carillon-player Ashley Peterson. Anyone who has heard the tower's bells on the way to class will surely do a double take when the song begins.
It's hard to imagine how I would react to this record had I not been attentively following its progress for the last year. Many of the things that make it special to me -- the campanile, Andrew's personality, the thought of him obsessing over the string arrangements -- may very well be lost on the average listener. But my hope is that you will hear this record and find it to be every bit as amazing as I do.