The lefties may be losing at the polls, but they are winning on the best seller lists.
"I think there is an increasing groundswell of anger among non-Bush fans," said Ruth Lichtwardt, assistant book buyer at Oread Books, which is on level two of the Kansas Union.
The more liberally slanted titles are dominating sales over the more conservative across the nation, including Lawrence.
Al Franken, author of "Lies and the Lying Liars Who Tell Them: A Fair and Balanced Look at the Right," is the best-selling author at Oread Books with 18 copies whereas more-conservative author Bill O'Reilly, as of Thursday, had sold only three books.
The best-selling book at Oread Books is "Jayhawks on Parade" which has sold more than 415 copies.
"Keep in mind we don't order as many copies as say a Borders," Lichtwardt said.
The Lawrence Borders has sold 287 copies of Franken's book compared to 40 copies of O'Reilly's book as of Thursday.
Pam Dunlap, office supervisor at Borders, 700 N.H., said she thought Franken was just more fun to read than O'Reilly.
"My guess is that that book (Franken) is more entertaining," she said.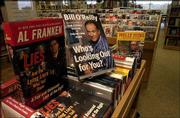 Dunlap said that when O'Reilly's first book, "The O'Reilly Factor," came out, it was one of the most popular books at the store. But his new title just isn't selling like his first.
The overall No. 1-selling book at Borders is "The Da Vinci Code."
Lichtwardt said Oread Books had to send back copies of O'Reilly's previous book because it sold poorly there.
"It's not like we're all liberals, but people don't seem to be coming in and asking for the conservative books," she said.
Shifting markets
Raven Bookstore employees have noticed the same trend, so they aren't buying many of the conservative-slanted books.
The left-leaning trend isn't the same across the state. There seems to be an up-and-down quality to the popularity of political books in Kansas.
For instance in Leavenworth, Bob Spears, owner of The Book Barn, said conservative political commentator Ann Coulter, author of "Treason," was outselling major authors like Michael Moore, author of "Dude, Where's My Country?" and even Hillary Clinton, who recently published "Living History."
"We have an unusual customer base," Spears said. "We focus on the military, yuppie market."
Just down the road in Kansas City, Kan., however, "Living History" was a big sell at The Book Store, which typically doesn't hawk many political books.
"Hillary Clinton, we probably sold hundreds of copies, which is quite a phenomenon because we usually don't sell political books at all," said Shawn Paxton, owner of The Book Store.
Paxton said people who bought the Clinton book tended to be mostly senior citizens and men.
"I think actually there was a huge curiosity factor just to see what all she would say," Paxton said.
Just a fad?
O'Reilly appears to be having the same problems selling in Wichita as he is in Lawrence.
Jeff Newberry, inventory manager at a Borders Books in Wichita, said liberal-slanted books were selling a lot better than conservative titles at the store.
"As far as sustainable sales, Al Franken is outselling Bill O'Reilly," Newberry said.
Newberry also said Clinton's book was a big seller there, and while conservative authors like Sean Hannity, Ann Coulter and O'Reilly were big sellers for them, they just didn't seem to compare with Moore, Franken or Clinton.
One reason liberally slanted titles are outselling conservative leaning titles might be the books' publishers. Liberal books tend to land the bigger publishing companies who can buy better placement in bookstores, whereas conservatives tend not to get major publishers and, therefore, get less desirable placement, Spears said.
According to Doug Weaver, manager at the Lawrence Borders, nonfiction lists tend to be cyclical. So although political authors are currently selling well nationwide, he said trends tend to last two to four years. Weaver expects sales of political books to drop off after the next presidential election.