Monday, November 24, 2003
I know that I am going to get criticized, made fun of and lose the respect of fellow critics when I don't give American Idol an F. But the fact is that the game isn't that bad...really. Too many critics had their mind set on giving this a bad review because of the preposterous premise. I mean come on, an American Idol game?!?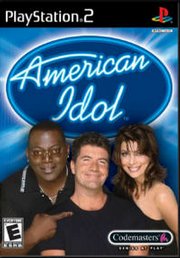 If you've played Dance Dance Revolution or any of the like dance pad-based games, American Idol will be second nature to you. As the button icons come to a center of the cross-hair, you must step or press that button with the correct timing. You are rewarded with how accurate your timing is. The twist here is that your character will sing well if you string together accurate hits or will start to sing way off key if you keep missing. The songs you may choose to sing are all Top 40 recent hits from Sheryl Crow to NSync and are sung by several different singers perfectly. A specific singer is assigned to a vocal style. Your vocal style is chosen when you create your character in the beginning. The game uses a pitch bending technique and clever cut and paste to make the vocals sound terrible when you suck at your timing. This effect is done very well and is very amusing. But unfortunately it is the most fun part of the game when the point is to win, not to suck.
When you do suck, Simon, Paula and the other guy will tell you that you do in their normal way. The temptation is do coerce Simon into saying his key "Absolutely dreadful" type lines. Again, this defeats the purpose of excelling. The judges lent their voices to the game, increasing the atmosphere. Of course, the character models are cel-shaded, which is interesting, and gives that game a unique twist.
Unfortunately there will be many instances where two judges will say they hate it, and the third says that "well, I guess we all liked it, you're on to the next round." The consistency is pretty bad at times.
You can rehearse or go for the regular mode which takes you from regionals straight to the top just like the show, with cutscenes and instances likened to the game. At regionals, you sing acapella (without instruments), in Hollywood's first stage, it's just you and the piano accompaniment and in the final stretch you sing your song to the full back-up. Much attention was given to reproduce the contests accuracy.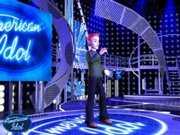 Where the game breaks down a bit is its dated gameplay mechanic ripped directly from DDR. There is nothing added to it. Also, unlocking apparel and new looks have no real importance in the game and add nothing in particular to a cel-shaded world. The loading times are too much and your characters in-game speech is short and most of the time makes no sense in context.
Overall though, this is a nice diversion from the DDR games, especially if you are a fan of American Idol and the songs that are generally chosen for performance in the show. Bad singing can, and will, get old. But while it lasts, it's pretty enjoyable.
Graphics: B-
Sound: B
First Play: B-
Last Play: C+
Gameplay: D
Overall: 70% C-
More like this story on Lawrence.com