Friday, November 28, 2003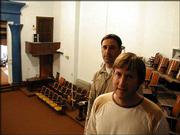 It is a huge building that has stood at one of Lawrence's most prominent intersections since 1912. Yet up until last weekend I had never stepped foot inside, nor spoken to anyone who had been in the facility.
I'm referring to the Masonic Temple at 1001 Mass., a grandiose, stone edifice structure that has towered over the clothing stores, restaurants and taverns of downtown Lawrence since before your grandparents were born. Now the building is in the process of being given a conceptual overhaul.
Exit the Masons. Enter music fans.
"I think we're probably going to call it the Sonic Temple," says prospective co-owner Brad Ziegler. "The facade is engraved in stone so we're going to take the 'm' and 'a' off."
Ziegler, proprietor of JB Stout's, Marisco's, Louise's Bar Downtown and Eighth Street Taproom, is joining with partners Jerry Johnson and Jim Womack to convert the place into a 700-capacity concert venue.
"Once we get the 'exiting' taken care of and finish upgrading the electrical system, I think we could be ready by March," Ziegler predicts. (Financial terms of the deal have not been disclosed.)
Already the Temple is set up fairly well to facilitate the envisioned music events. An ample stage opens up onto a dance floor flanked by side seating. A sculpted balcony above has rows of ensconced wooden chairs with perfect sight lines to the stage.
Think Liberty Hall but slightly smaller.
"The size and volume of the room is dimensionally really well-suited for this," says Johnson, a partner who owns Neighborhood Studios across the street at 920 1/2 Mass.
"My first impression is the acoustics are pretty good from the get-go."
Although Johnson and Ziegler are not sure how they want to incorporate the elaborate pipe organ that adorns the balcony's rear wall (reportedly, one of Reuter's original handiworks) into the overall scheme of the place, they have a detailed game plan of what needs to be modified.
The stage will be raised a few feet, a top-of-the-line sound system installed and a rear exit that opens onto 10th Street added for fire code reasons. The kitchen will remain fully functioning so that the main room and downstairs can be rented out for weddings or theater-type events.
Don't expect the large pillars that bookend the stage to stay their midnight blue color, either.
"A friend suggested we paint the pillars like faux marble," Johnson relates.
Most of the cosmetic changes are planned for the adjoining areas to the main auditorium, especially with regards to where the performers hang out before a show.
"We're wanting to make a real nice green room for bands," says Ziegler. "We want something with showers and bathrooms -- a chance to give the bands who come off the road more of a home-type feel. We'll have a couple couches in there so they can come in, unload and just kick back for the day."
With downtown venues such as Liberty Hall, The Granada and The Bottleneck already capable of handling touring shows that draw hundreds of patrons, what separates this Sonic Temple from its eventual competition?
"It could very well fill a niche," Johnson explains. "Because of how majestic the room is, maybe Lawrence can accommodate some acts that we couldn't before."
Ziegler adds, "There are a lot of national acts that this is big enough to draw in. We're not saying no to any particular style -- whatever will draw the type of crowd that will come in and act responsibly. This isn't the type of place where you want to have a band that is going to tear up the place."
As for the former occupants, the Masons are in the process of removing all their gear in preparation for constructing another building in a more affordable section of town.
"The Masons are very happy that we're going to use it as is," Johnson says of the planned venue.
"We don't want to change anything. We want to polish it up and open this gorgeous room up to the public."
More like this story on Lawrence.com