Saturday, November 29, 2003
I would like to first point out that even though Tiger Woods is obviously on the next level of golf games, I liked Links 2004. Outside of Project Gotham 2 and Top Spin, Links is XSN's best showing.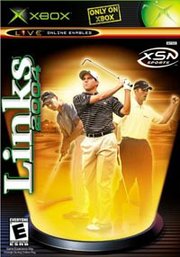 We all know that Microsoft scooped up the popular PC golf franchise with its billion-dollar guerilla developer-friendly tactics. This is one of the main reasons why Links is far ahead of most of its Microsoft sports brethren.
One thing Links does remarkable better than TWPGA2004 is course modeling. Although TWPGA sported great models, the courses offered in Links makes the other look relatively barren. The character models also look really good but the animations look particularly awkward. Add to that some proportion issues with the tin cup and the ball, you would still gravitate toward EA's offering from a visual experience (not to mention Tiger's deep character face modeling engine).
Swinging uses the analog stick for backswing and fore, with spinning adjustments that must be made before the swing. This is all executed beautifully. You can adjust shots with selecting different clubs for lay-ups. This is all going well.
Then you get to the putting surface.
This is where the gameplay nearly falls apart. You have an aimed spot on your power meter to go for, but if you are slightly over or under it, the disparity of the shot will be way too short or long. There is no room for error and the mathematic proportion is more flawed than it is "difficult" as some put it.
The commentary includes Ken Venturi, Jeff Waters, Jim Nelford and Rod Zundel, and man does it suck. None of the commentary seems to have been coherently pieced together or planned out for specific situations. It all seems thrown together. Although you have to expect some repetition when playing for an extended period of time, it won't take you too long to hear repeated phrases.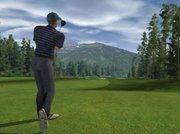 Outside of that, there are some great customizations, unlockables, a plethora of things to earn, buy and equip just like every golf game should have to increase the replay value tenfold. Get online and take people on in match play which the Xbox version of Tiger lacks. If you are frothing at the mouth for online golf on the Xbox, Links should do nicely.
If you aren't crazy about golfing with someone from Jersey from home, you should stick with Tiger this year, although Links is shaping up to joining Project Gotham and Top Spin to be the next great competitor out of the XSN titles.
Graphics: B+
Sound: C-
First Play: B-
Last Play: B-
Gameplay: B
Overall: 80% B-