Saturday, November 29, 2003
Need for Speed goes "underground" this year to explore the rush of tricked-out night racing. Although it may not be as prolific as other racers, it definitely hold its own, providing a nice speed rush and interesting style system.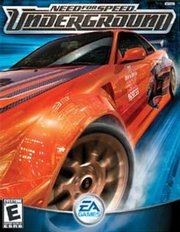 Choose from about 20 real cars and start from the bottom with no reputation. As you take part in several night races, drag and drift exercises, you can earn style points and cash to turn into customizations like new rims, neon, spoilers, turbos etc to totally pimp your ride. These are in direct correspondence to your reputation and bring out an element like a video game version of The Fast and the Furious. This is all worked out in the regular underground mode where you have over 100 challenges to complete.
The game provides a pretty good challenge even on the easy setting since in your races you must get first place to advance. There are no rep points for second place most of the time; it's first place or a big tie for last.
Different cars handle differently as expected, but overall the handling of vehicles marks itself between Burnout 2 and Gran Tursimo 3 in terms of ease from the get-go. The game has an amazing sense of speed and ironically the blur effects on the PS2 that compensate for its lack of technical power actually make the speed effect best on that PS2 version! Add that it is the only version to go online and able to play PC opponents, the PS2 version edges out the Xbox and Gamecube. That is a rarity.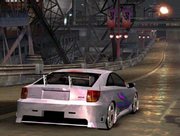 Being a predominant night racer, EA would have to vary the tracks quite a bit to compensate for the lack of day textures. Whoops! So much effort was obviously spent tweaking the great racing mechanics and style system that track design and variety took a back seat...in a bus. The greatest fault of NFSU is the sheer lack of tracks. It gets so repetitive that you may find it frustrating to want to get reputable among your cyber-peers. Most of them are just simple variations in the same city, but even then not enough to warrant calling them different tracks.
The game does look great with a fitting soundtrack, transporting you into the underground world. Although it doesn't have the realistic prowess of Project Gotham 2, those that like to trick out cars may find Need for Speed: Underground to be a fitting element to their holiday collection.
Graphics: A-
Sound: B+
First Play: B
Last Play: B-
Gameplay: B-
Overall: 84% B
More like this story on Lawrence.com