Saturday, November 29, 2003
Like Inside Drive and Links being added late to the party, you may wonder what all that extra time was spent on. It's plainly obvious that Rivals need to concentrate on core gameplay mechanics that boost its competitors to the next level.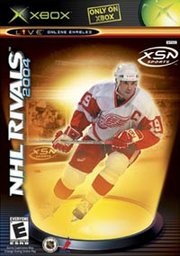 The first thing you notice as you boot up a quick game on Rivals is how it looks. The visuals have a great accurate representation of real-life hockey, arguably the best looking in the fray. Of course this is until you get to the player faces where only the stars get the accurate maps. This is really disappointing.
The second most notable difference with Rivals is its convoluted gameplay with some shaky collision detection and near impossible deke moves. Skating and passing are a chore. The AI will almost always steal the puck if they are anywhere near you, no matter the difficulty. The argument could be made that this closely resembles the sloppy play of the real NHL. That argument is granted but ESPN NHL outshines the fluidity of Rivals' gameplay by leaps and bounds; ESPN's gameplay is learnable where Rivals' play is just plain unforgiving.
Taking Rivals online is its greatest strength with robust XSN support, but again there are better options out there this year. This makes Microsoft's sports record 2-5 this year in my book. Top Spin and Project Gotham 2 have stellar showings, but Inside Pitch, Inside Drive, Fever, Links and Rivals are noticeably behind the competition, signaling a training period for programming teams that show promise but still have a long road ahead.
Graphics: B+
Sound: B
First Play: C-
Last Play: D+
Gameplay: D+
Overall: 68% D+
More like this story on Lawrence.com