Wednesday, October 1, 2003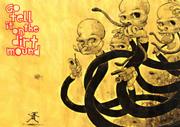 Whether you know who Travis Millard is or not, you've probably seen his artwork around Lawrence. Maybe you've leered drunkenly at the goat boy while unloading a couple PBRs in the bathroom of the Eight Street Tap Room. Perhaps you've gasped for air while puking on the hard concrete in the Replay Lounge's beer garden and found solace in a mural depicting a dead cat flying through heaven. Or perhaps you sometimes fondly reflect upon one of the hundreds of other traces signed 'tm2' that Millard left in the alleys and backstreets of town.
These (sometimes beer-splattered) murals are befitting introductions to one of Lawrence's most iconic expatriate artists. As creator of Fudge Factory Comics, Millard built a cult following around his grotesque, often repulsive, characters. From the pimply preteen girl swooning by the *NSYNC tour bus to the neurotic truck driver cradling a possum in his arms, Millard's characters invite both laughter and pity bordering on empathy.
Past Event
Saturday, October 4, 2003, 6 p.m. to 10 p.m.
Olive Gallery and Art Supply, 15 E. 8th St., Lawrence
All ages / Free
Since he left Lawrence in 2001 for New York City (he recently moved to Los Angeles), Millard's characters have surfaced in Spin Magazine and on MTV2. Soon, he may have his own TV show, belt buckle and line of shoes.
"There's always something to do," Millard says. "It's a big, weird network and I don't even know where it all comes in or how it all happens. For the most part I just try to stay active."
Active would be an understatement for a man who at any one time may be juggling three or more freelance projects with gallery openings across the country. In the last few months, Millard has finished a 48-page book, met with Nickelodeon producers about a possible TV show, painted 80 shoes for a Vans promotion in California and begun work on a second music video.
"It definitely ebbs and flows," he says. "One week I'll be like, 'Oh shit, let's get this together; this is a chance to do a TV show. But then it'll just be dead silent for a long time. Then two or three months down the road it'll probably come back again and then maybe it'll happen."
"Or maybe not."
Millard's fables
Millard will return to Lawrence for a week to attend an exhibition of his work at the Olive Gallery. The show, which runs Oct. 4-29, will feature a hodge-podge of Millard's pen and ink drawings, limited-edition screen prints, collages and comics.
Millard will also be selling copies of an original illustrated book called "The Fable of Brian and Stuff." The story follows "Brian" - a goat-like character that appears on the Fudge Factory logo - as he suffers the deceptions of a squid-like swindler.
Millard said the story reflected his own experiences as a freelance artist.
"I wrote it at a time when I was hassling this company for some money they owed me," Millard says. "It's like, dude, c'mon, I'm living day-to-day here and I've been waiting on this check for six months and you're still jacking me around and you're a company with millions of dollars behind you. What's six hundred bucks? What the fuck, man? I did this thing; it was there on time for you. Why don't you just pay me?"
The show will also feature 12 abstract live paintings that Millard painted from the front row of a free jazz festival in New York. The drawings, which Millard describes as "loose and wild," depict artists like Matthew Shipp, Yo La Tengo and Chan Marshall.
Working with musicians is nothing new for Millard, who designed album covers for The Get Up Kids ("Something to Write Home About" and "On A Wire"), The New Amsterdams ("Never You Mind") and Hairy Apes BMX ("Out Demons"). The Get Up Kids also hired Millard to animate the video for "Overdue," the first single from "On A Wire."
"It was totally bizarre and intense and scary," says Millard, who teamed up with friends Brock Batten and Katie Marsh on the latter project. "We had five weeks and just hammered the shit out and didn't sleep for like a solid week. Towards the end we'd stay up and sleep under the desk for a couple hours at a time maybe."
Skulls and soccer moms
In between freelance projects, Millard found time to work on his most ambitious and long-running project yet: an intensely detailed 13x7 mural painted on a canvas draped across a wall of his Brooklyn apartment.
"I wondered what would happen if I had this thing up for the length of time that I lived there and just worked on it whenever I had the chance," he says. "Sometimes I'd work on it really intensely and other times I'd put it down for a month."
When the mural was nearly finished, the pieces began falling into place for Millard to move to Los Angeles. Artist and friend Shepard Fairey - best known for his "Obey" sticker campaign - invited Millard to share a show at his BLK/MRKT space in Los Angeles. Millard also received a call from Batten, who offered up an open room in a 10-person artists' collective.
The only obstacle that remained was figuring out a way to transport the massive stretch of canvas and paint.
"I realized, 'Man, there's no way I'd be able to ship this for any less than like a grand,'" Millard says. "So I bought a minivan from a soccer mom and painted some big skulls across the side of it and drove it across the country."
The show in L.A. was a success, attracting a steady stream of Shepard Fairey enthusiasts and celebrity onlookers like former Rage Against the Machine vocalist Zack de la Rocha. Though the mural didn't sell (possibly due to its $30,000 price tag), Millard made some good connections and sold a number of less expensive pieces.
"I didn't expect to sell it and I wasn't even particularly itchy to sell it," he says. "I don't know how you price something you've done for a year and a half that's gonna leave your hands and sit in somebody else's house."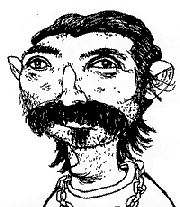 "I think it's worth more than that to me."
Buckle down
L.A. has proven to be a fertile source of inspiration for Millard, who derives many of his character ideas from people he encounters.
"Just in my neighborhood alone there's definitely some characters," he says. "In a way it's kind of a paradise but it's also filthy and deceiving. Especially with so much of the film and television industry out here, there's a lot of starlets."
Since the show, Millard has taken an unexpected detour into the world of fashion. Shoemaker Vans tapped him to paint 40 pairs of canvas slip-ons for a show at an "American Rag" store in L.A.
"It's a totally different ballpark because it's fashion related and the other designers are internationally famous Versace-type people," Millard says. "I don't really know that much about that world but when I talk to my friends, girls and stuff that are into that, they're like, 'FUCKin' Cynthia Rowley! That's like fuckin' Versace! So that's kind of cool because it puts my work in a different context."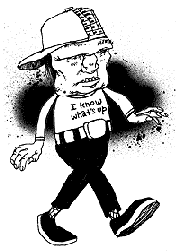 Millard has also been strutting around with a prototype of a belt buckle he designed for clothing manufacturer Diesel.

"It's sort of like Hans Solo emerging from the ice but it's Goathead emerging from a brass plate," he says. "It's pretty pimp."
Fudge TV
With one foot in so many different artistic fields, Millard says he no longer markets himself simply as an illustrator.
"I felt like that term doesn't lend itself to a point of view," he says. "I always felt like I just wanted to do it guerrilla style: make my own books and make my own shit."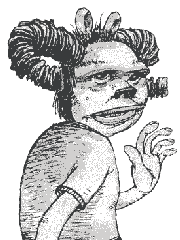 In the months ahead, Millard says he will continue exploring the possibilities of making Fudge Factory into an animated cartoon (a Nickelodeon producer told him his characters were a bit "too adult" but expressed interest in working with him if he could pitch a more kid-friendly product).
"There's always opportunity to do this kind of things but unless you're really ready for them when they come around it doesn't matter," he says. "I mean, yeah, I want to do animation but shit, I want to do a book tomorrow."
"Actually, I need to call that dude."
More like this story on Lawrence.com