Wednesday, October 1, 2003
Who are you?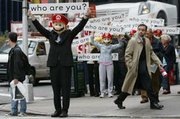 That is the question Nintendo wants answered and they are willing to put a multi-million dollar ad campaign behind it.
The tests, which are found at their website here are designed to test the range of emotions you feel when encountered with Nintendo's mascots. The tests will flash sounds, pictures or movies for you to critique. One test asks you a series of questions and matches you up with the mascot of like mood. It's odd for sure but behind this quirky campaign is market research inded.
The campaign will include magazine, TV and movie ads in an agressive namebranding effort.
If you want to see Nintendo's next console succeed, even if you are a PS2 or Xbox fanboy, visit the site.