Thursday, October 2, 2003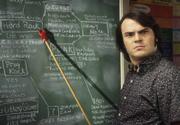 Some actors were born to play a role. Jack Black seems like he was genetically designed by a team of hilariously evil scientists to star in "School of Rock."
"A lot of actors want to stretch and find parts that are further away from themselves," Black says. "They want to do someone with an English accent but who grew up in Germany (playing) a scientist from Mars. I like to get closer and closer to what I really am. And this is the closest so far."
Portraying a failed rocker who poses as a prep school teacher in order to recruit a talented class of fifth graders as his backup band, Black plays to his manic strengths: high-voltage comedy and musical bravado.
Previously, Black's movie career ("Shallow Hal," "High Fidelity") and the rock persona characterized by his Gold record-selling band Tenacious D had never shared a stage. Now, in "School of Rock," they all but merge.
"When I perform rock, I'm kind of making fun of it," says Black, interviewed Sept. 15 at a press roundtable in Los Angeles. "I love rock AND I tease rock at the same time."
Jon Niccum (and junket homies) talks with Jack Black, 09.03
As does the movie, which opens today in theaters. Part of the reason the actor and the project complemented each other so well is because the part was penned from the outset specifically for Black.
"I've known Jack for like eight years," says Mike White, writer of "School of Rock." "He did a movie I wrote called 'Orange County.' He had a supporting role, but he really stole the movie. I felt like after knowing him and seeing his comedy, if I just wrote something that embraced all his comic gifts and musical gifts and just let him go to town it would be a lot of fun."
Black says of his former next-door neighbor, "(White) knows my strengths, and he crammed it full of softballs for me to hit as hard as I wanted. They were right in my wheelhouse."
Personal taste
In "School of Rock," Black plays Dewey Finn, an overweight, over-the-hill guitarist whose talent doesn't always measure up to his ambition. But what Dewey teaches to his classroom of rock-'n'-roll-illiterate students is that there is more to rocking than just age, appearance or skill.
"I think that rock exists out in the world, and it's not always in rock music," Black explains. "Like an example of an older person who I think is rocking is Jimmy Carter. He's kind of rocking in his political, post-failed presidential career. He's gone on and done a lot of great things that are pushing boundaries."
So then is Black always rocking?
Movie
School of Rock
*** 1/2

In the funniest film about rock and roll since "This is Spinal Tap," Jack Black is a force of nature as a slovenly, over-the-hill guitarist who cons a class of fifth graders into being his backup band. Charming and pitch perfect in its musical observations, the flick gives Black the ultimate venue to exploit his raucous comedic gifts.
"No, I'm not always rocking," the 34-year-old replies. "It takes a lot of energy to rock. You have to save up energy. If you're rocking all the time, your rock would become kind of lukewarm. You have to save up the battery power then rock white-hot."
From Pink Floyd to The Doors to Deep Purple, "School of Rock" is a cinematic tribute to a legion of bands from the classic rock era. Black made sure his own personal tastes were often reflected by those of Dewey's in the film.
"Anything that had to come out of my mouth I had a very strong opinion about," he says. "I really wanted to do the AC/DC at the end, 'It's a Long Way to the Top.' I really wanted that Zeppelin tune ('Immigrant Song') in the van."
Fortunately, the members of Led Zeppelin aren't near as stingy anymore about access to their music rights. This is something that "School of Rock" director Richard Linklater had battled rather unsuccessfully in the past.
"I guess Linklater had a hard time getting (Zeppelin tracks) for 'Dazed and Confused' -- which obviously he would have loved to get (the song) 'Dazed and Confused' in the movie of the same name. They WERE super protective. I think they've loosened the reins a bit. But just to make sure, we did a little filmed thing where I begged Led Zeppelin to let us use this song. We had 1,000 extras in the audience chanting after me. It worked, I guess," Black says of the taped ploy he sent to the three surviving members of the British group.
No joking matter
Some songs that won't be heard in the movie are those of Tenacious D, Black and partner Kyle Gass' acoustic tag team that straddles the world between rock bands and comedic parody. He's saving up musical material for a movie based on the duo that is slated to begin production soon.
"It is not a rockumentary," he reveals. "It's a narrative. It's the history of Tenacious D before there was a Tenacious D. You'll see me as a child. And hopefully we can get Meat Loaf to be my father, because that would be perfect. He doesn't understand the rock, so I run away from home. It takes me 20 years to get to Los Angeles. Then I get there and meet Kyle and form Tenacious D, and then we go on our first quest. It's kind of like 'Lord of the Rings.'"
Although the D doesn't make it into "School of Rock," Black's experience touring with the group alongside stadium headliners certainly helped prepare him for the live scenes ... especially those in which the audience is supposed to loathe him.
"We opened for Pearl Jam," he recalls. "We opened for Weezer. We also opened for Tool, which was a huge mistake we made over and over again -- three times. They were too hardcore. The audience was very angry at us for being us."
So they didn't get the joke? They didn't like the joke?
"They didn't WANT a joke," he says.
"You don't go to Tool to laugh. You go to be angry and vent. ... I can't remember what they were throwing, but we definitely got pelted."
The kids are alright
While much of this latest movie role is innately familiar to Black, one crucial element is a complete novelty: working with children.
But despite the actor's abrasive, in-your-face demeanor, he warmed up to the idea in no time.
"Working with kids was not tough for me," he says. "I always felt right at home because my sense of humor is that I kind of got stuck in adolescence in a way. It's rated R. Like my band Tenacious D is kids rock for adults. But if you take away a few of the cuss words, kids love it."
Still, this is a movie that involves 10- and 11-year-olds, not high schoolers. Hoping to avoid certain thematic pitfalls of potentially saccharine subject matter, Black tried to learn from past big-screen successes and craft a "'Willy Wonka' or 'The Bad News Bears' of rock."
"The only reservation is that there's an automatic stigma with kids movies that if it's a kids movie it must be bad; it must be JUST for kids," he explains. "How could it be funny if it's rated PG? But I knew that was just really a product of the times and we could make a really good movie, especially with Mike White writing it."
So now that he's had such a positive experience, does that mean Black wants children of his own?
"Not really, no," he replies. "I'd like being an uncle. I'd like to have some nieces and nephews, because I'm only good with kids in spurts."