Thursday, October 2, 2003
Nintendo announced today that sales of Gamecube have quadrupled in the past two weeks as a result of their aggressive price drop to $99.99.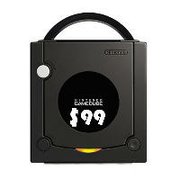 "Clearly, this move is what game players desired, and also what our retail partners wanted," says George Harrison, senior vice president, marketing and corporate communications, Nintendo of America. "We're already receiving requests for additional shipments of Nintendo Gamecube systems between now and the holidays."
Reatilers such as EB Games, Best Buy, Wal-Mart and Target are reporting the same story. Many expect the Gamecube to edge out Xbox sales by the end of the year as a result of the campaign.
"The price cut is working great!" stated Dan DeMatteo, president, GameStop Corp. "Our sales of Nintendo Gamecube have increased more than fourfold. We are currently increasing our shipment requests for the system throughout the holidays."
This is in addition to another aggressive $50 million "Who are you" market research campaign that will grace theaters, billboards and television.