Saturday, October 4, 2003
By now we're all used to the EA formula. Full-motion video opening with licensed up-and-coming rock bands in the background and the "white" feel to everything. NHL 2004 is no different and adds itself to the sports elite again this year.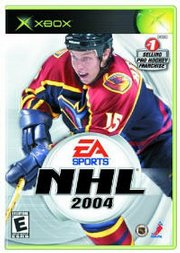 If you're a fan of EA's hockey series you will wind up either very disappointed or very pleased with this year's edition. Gone is the flashy, unrealistic goal-making and in is the convoluted, somewhat sloppy style of real NHL hockey.
The commentary from Jim Houston and Craig Simpson also mimics real life with less one liners and more insight. The graphics also take a major step up with a higher polygon count and smoother animations.
Those who really hoped for a more fast-paced arcade game are bound to be disappointed. But the step toward simulation is more than welcome to us.
With plenty of throwback jerseys and international teams coupled with simple, solid controls and a deep Dynasty mode, NHL 2004 impresses us with the change and offers hardcore gamers and button mashers a good time on the ice.
Graphics: B+
Sound: A
Gameplay: B+
Replay: B+
Overall: 89% B+