Maybe you missed it last spring. Maybe it was so good you want to see it again.
Either way, there's a solution.
Past Event
Thursday, October 9, 2003, 8 p.m.
Lawrence Arts Center, 940 New Hampshire St., Lawrence
All ages
English Alternative Theatre, a staple of both the Lawrence and Kansas University theater communities, begins its fall season with an encore of Tennessee Williams' critically acclaimed play "The Glass Menagerie."
KU English professor and EAT artistic director Paul Lim, who also directed the April run of the show, will oversee the revival. The decision to come back with an old standard from last season was an easy one for Lim. Primarily, he's doing it as a service to KU students enrolled in English 102 and 211.
"A lot of instructors will be teaching it this fall," Lim says, "so we thought we would avail ourselves to doing it again so they would have the opportunity to see it in live production."
The play deals with a mother and her two children who have been deserted by their husband and father. Central characters are Amanda, the mother who tries to live out her wishes through her children; Laura, her fragile daughter; and Tom, the son agonizing between obligation to his family and desire to live his own life. EAT's version of the play is narrated by an older Tom, reliving the memories that led to his departure from the family.
Lim says the revival has allowed him to address technical issues that surfaced during the first run.
"There was so much work that had to be done that I don't think I paid enough attention to the subtleties," Lim says. "I think you will see a more pronounced show."
Most of the original cast is back for the revival -- an unusual opportunity for an actor -- and some are taking different approaches to their characters.
The revival has given Amy Devitt, who plays Amanda Wingfield, the matriarch in the play, a chance to delve deeper into her character.
"I am lightening up Amanda a bit," says Devitt, a KU English professor. "I am trying to find more joyous times for her so she is not just an ogre."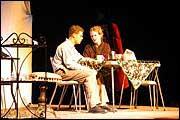 One of the biggest changes in the show will be folding the older Tom Wingfield, played by John Younger, into the main action.
"Older Tom is now more physically involved in the main set, so it is becoming more obvious that he is the writer of the play," Younger says.
After picking up rehearsals for about three weeks, the cast and director are ready to bring the modern classic back to the stage. Lim hopes people who were unable to get tickets to the spring shows will be able to see a performance next weekend.
But even for audience members who DID see it last time, Lim believes the show is worth revisiting: "It is like meeting an old friend who has gone through plastic surgery."