They weigh a couple of hundred pounds.
They get about 100 miles per gallon.
And they can fit in even the smallest of parking spaces.
Scooters, a diminutive form of transportation, are catching on big time in Lawrence these days.
Everyone from Kansas University students to college professors to pediatricians can be seen zipping around town on the sprightly, candy-colored two wheelers.
And why not?
They're the perfect antidote in an era of hulking sport-utility vehicles. They're simple to use, highly economical and leave but the barest of imprints on the environment.
They're fun, too.
Just ask Falestine Afani Ruzik, 20, a KU senior from Minneapolis, Kan., who's ridden scooters for about four years.
You can see her buzzing through Lawrence on a blue 2003 Yamaha Zuma Sport Scooter she bought for $2,500 in Topeka.
Though Ruzik also has a 1992 Pontiac Bonneville, the broadcast journalism major prefers getting around on her scooter.
"I love how they feel: the wind in my hair, the sound of a scooter buzzing along and the way you fly down the street," she says. "It's very therapeutic and calming."
She enjoys her scooter so much, in fact, that she and a friend co-founded the KU ScooterHawks, an officially recognized student group for scooter and moped enthusiasts.
Ruzik and Luke Middleton, 26, a research economist working for KU's Policy Research Institute, started the club this past summer. It has attracted about 10 people so far.
"Every week we get a new member or someone who's interested," she says.
But the undeniable appeal of scooters, while increasingly popular among college students, extends beyond campus.
For instance, there's Dr. Terry Riordan, a 51-year-old Lawrence pediatrician who recently received a red Kymco scooter from his wife as an early birthday gift.
"I use it every day I can," he says. "I took it to work 90 percent of the last month and a half. It's getting to the time of year that I'll stop using it when it's cold. But if I can just wear a jacket and gloves, I'll ride it."
License: Any type of operator's license or learner's permit is sufficient for riding a scooter in Lawrence. Insurance is not required. All you need is a motorized bicycle license tag. They're $12 at the Douglas County Courthouse.
Access: Scooters are illegal on interstates, but are legal on city streets, two-lane highways and secondary roads. You can ride them on the KU campus, but you need a mo-ped permit, which runs $13 a semester or $20 a year from the KU Parking Department.
Parking: Riders on the KU campus are free to park scooters at bicycle racks or in motorcycle stalls, and they may ride through Jayhawk Boulevard even when it is closed to cars, from 7:45 a.m. to 5 p.m. weekdays.
Simplicity, economy
Mike DeGraw is partly responsible for sparking the scooter boom in Lawrence.
DeGraw opened Subsonic Scooters, 19 W. Ninth St., May 1. His 500-square-foot store sells four brands of scooters, ranging in price from $1,195 to $3,499.
Business is brisk.
"At last count a week ago, I think we're up to 53 scooters (sold since May)," says DeGraw, 57, who lives in Kansas City, Kan.
His store also sells mopeds, electric bicycles, and gas and electric skateboard scooters.
The full-size scooters he offers range in weight from 175 to 235 pounds and feature two-cycle, oil-injected 49 cc engines making from four to seven and a half horsepower.
DeGraw's scooters -- made by Peugot, Kymco, Twist N' Go and Derbi -- have tubular steel frames, plastic-composite bodies and top out around 55 miles per hour.
DeGraw believes the popularity of scooters is on the rise, nationally and in Lawrence, too.
"People like the economy of them -- they get about 100 miles to the gallon -- the simplicity of them, because they're fully automatic, and the ability to park them just about anywhere. That's what people tell us. But the fun factor is the main thing," DeGraw says.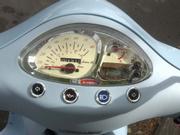 Marty Mosier, a Lawrence resident who is manager of Vespa Kansas City, a Vespa scooter dealership in Overland Park that opened in May, offers another perspective.
"They're just a hip machine. People (who buy scooters) envision themselves as having a freer lifestyle," he says.
Vespas -- the retro, steel-bodied Italian scooters made since 1946 -- have an appeal all their own.
They're forever linked in the public's mind to the 1953 film "Roman Holiday," starring a chic Audrey Hepburn and Gregory Peck, in which the pair tootle around Rome on a stylish Vespa.
"These scooters kind of sell themselves. People seek them out because of the history and the nostalgic nature of them," Mosier says.
Popular on the hill
The boom in scooters is particularly evident on KU's campus, where students, faculty and staff have discovered the ease and convenience they offer.
"I think they're exploding in popularity. A year ago, there were two or three on campus. I counted nine in front of Wescoe Hall the other week, and that's not uncommon. I know several people who've bought one," says Middleton, co-founder of the KU ScooterHawks.
He rides a 2002 Yamaha Vino, for which he paid about $1,700.
"I work at KU, so I'm here everyday. The big advantage is to drive it on campus and park right in front of my building. When I drove a car, I had to park it far off in some residential neighborhood," he says.
Michele Eodice, director of the KU Writing Center, rides her 2000 Honda Elite scooter almost every day.
"I live three blocks from campus, and I developed the 'KU calves' walking up the hill. But I really enjoy coming up here in the morning on my scooter. It's a nice feeling," she says.
"I like that I spend about $2.50 a month on gas. I fill up probably one or two times a month, and it's about $1.25 each time. I have meetings all over the campus, and I just jump on the scooter in front of my office in Wescoe and ride to the KU Visitors Center at 15th and Iowa in a few minutes."
Eodice also has a 1978 MGB convertible, but she rarely uses it these days, opting for her two-wheeled vehicle instead.
"I have a car because I couldn't figure out how to get my golf clubs on the scooter," she says. "That's the only reason I drive it."
More like this story on Lawrence.com