Thursday, October 9, 2003
CNN reported two days ago that several maps and other components' source code from Half Life 2 were stolen. That very same day a compiled, playable version was released all over the internet and can still be found.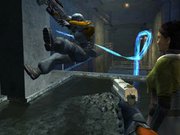 Publisher Vivendi stated that only one-third of the code was leaked, but the playable version that arose suggests it was much more, if not all the current code, that leaked. This theft will push the release date back to April of 2004 at least.
ATI recently announced that their new Radeon video cards, the 9600 XT and 9800 XT, would include Half Life 2. This is sure to have a negative impact on sales for both parties.
The search continues for the code thief and Valve is encouraging all Half Life fans to not participate in sharing the demo as to not tarnish the progress they are making. We'll have more as it develops.