Thursday, October 9, 2003
Marking the next big step in its marketing strategy, Nintendo is devoting $10 million to Mario Kart: Double Dash. Those who pre-order the game will get a bonus disc with several playable demos.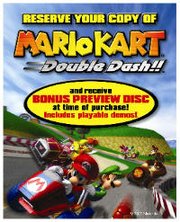 "Mario Kart has been one of best-selling franchises in Nintendo's history, selling more than 20 million units worldwide during the last 11 years," says George Harrison, Nintendo of America's senior vice president for marketing and corporate communications. "The latest version, Mario Kart: Double Dash!!, arrives just in time for the holiday season and is anticipated to be one of the hottest titles of the year."
The bonus disc will have playable Gamecube previews of Mario Party® 5, F-Zero® GX, Teenage Mutant Ninja Turtles/¢ by Konami, Star Wars®: Rogue Squadron® III: Rebel Strike/¢ from LucasArts and Sonic Heroes/¢ by Sega. The disc also includes movies of 1080°®: Avalanche, Kirby/¢ Air Ride, Pokemon Colosseum/¢, Final Fantasy®: Crystal Chronicles/¢, SpongeBob SquarePants/¢: The Search for Bikini Bottom from THQ, and Harry Potter/¢: Quiddtich/¢ World Cup and NBA Live 2004 from Electronic Arts. In addition, exclusive content for the Game Boy® Advance game Fire Emblem/¢ will be included.