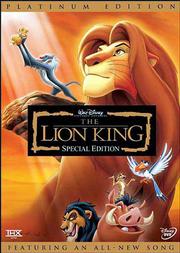 Although released nearly 10 years ago, Walt Disney's "The Lion King" remains one of the most beloved modern films. When it was first released, the film set the bar for excellence with its cutting-edge visuals and masterful musical score -- not to mention the box-office record gross (since eclipsed by "Finding Nemo") for an animated effort.
With the advent of DVD, Disney once again amazes audiences with this classic prodigal son story about a young lion cub on his journey to reclaim the throne.
Released on Tuesday, "The Lion King -- Special Edition" two-disc DVD offers both the original and digitally remastered versions of the film as well as gads of special features.
One of the big draws is the addition of a new song, "Morning Report," by songwriters Elton John and Tim Rice. For devout fans, the gossipy musical number may seem a little out of place, but the bouncy compositional abilities of John and Rice make it a welcome inclusion.
Aside from the movie itself, the most spectacular thing about the DVD is the sheer amount of added features. Not only are there in-depth looks into the filmmaking process, but the educational values it offers children are unprecedented.
For the film buff, the supplemental features disc offers insight into the Academy Award-winning score, behind the scenes looks at the animation process, and an interesting vignette on taking the story to the Broadway stage.
Kids should find the games entertaining. There's also an interesting look at the African animals the film brings to life and a virtual safari ride with Timon and Pumbaa. The re-release also offers music videos and never-before-seen deleted scenes, which include a charming lost verse to that catchy signature tune, "Hakuna Matata."
With all the special features the DVD has to offer, navigation of the menu is the hardest part. However, the jacket of the DVD offers handy navigational maps for both discs. And if that is not enough, the menus are guided by voices of the main characters.
Luckily, this feature can be turned off if needed.
DVD has taken the art of film to the next step. With its "Special Edition" series, Disney has taken its classic animated features to a completely new level. Now "The Lion King" has found a whole new pride.
More like this story on Lawrence.com