No one can say Jill Sherman lacks passion for art.
In fourth grade, she became so entranced by ceramics that she got a paper route and saved enough money to buy a potter's wheel and electric kiln. She and her father flew to Washington to pick up the wheel, which they brought back in several pieces.
"We checked most of it on the plane, but I had to carry the motor with me," Sherman recalls. "I remember it was a real bear getting through security, obviously, because when you X-rayed it, it looked like a bomb."
Sherman set up her first studio in her parent's Lawrence basement and weathered cold winters making pots in the drafty quarters. Though her media have changed through the years, Sherman hasn't stopped making art, despite any obstacles.
The 1983 Lawrence High School graduate works as the creative director for Tribune Media Services in Chicago, but on evenings and weekends, she creates one-of-a-kind embossed velvet accessories in the attic of her Chicago home. It's an upgrade from her basement work space in the first house she shared with her husband, but it has its rough edges.
"It can get pretty hot in the summer," says Sherman, 38. "The term sweatshop applies up there for sure with all the heat and the water" she uses in the embossing process.
But she persists.
"It is so rewarding," she says. "I really enjoy making my creations. I also enjoy meeting people at the shows I do, and I really like the stores I work with. Besides, the attic is only hot half of the year."
'Handmade and wonderful'
Embossing velvet involves choosing lace, a rubber stamp or anything with a high-relief pattern on it and using heat and water to compress the pattern into the nap of the velvet. The resulting pattern shines in subtle contrast to the matte velvet field surrounding it, creating a monochromatic "canvas" from which Sherman cuts and stitches her creations.
Sherman, who in 1987 received a bachelor of fine arts in design from Kansas University, stumbled onto the technique at a fiber art show. She had recently begun hand-quilting and decided to add this new approach to her repertoire.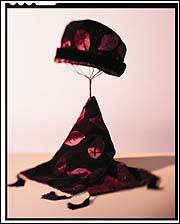 "So I made a scarf for myself and one of my best friends," she says. "We started wearing them around, and people came up and asked, 'Oh, where did you get that? I want one, I want one.'"
Sherman took the hint and started Sunflower Velvet Accessories in 1998. Scarves continue to be her most popular item, though she has expanded her line to include hats, purses, tote bags, pillows, throws, vests, slippers and smaller gift items, such as eyeglass cases.
She sells her work at specialty boutiques throughout the Midwest and the South. She also participates in about six juried shows a year. Spectator's, 710 Mass., is the lone store in Kansas that carries Sherman's work. She'll be there Friday for a trunk show, which will give customers a chance to browse her full line rather than just the scarves, hats and purses the store normally stocks.
Kathy Swanson, who co-owns the store with her husband, Mark Swanson, says Sherman's line sells well.
"The hats are huge for us. We've carried her stuff for years and have people coming to the store specifically for her things," she says. "As far as we're concerned as a specialty store, what we want to make available for people is merchandise that is not mass-produced, so you don't see hundreds of something but instead it's really special.
"Each of her pieces is handmade and wonderful."
Influences
Sherman says she comes to Lawrence two or three times a year and is looking forward to this visit.
"We really enjoy coming back as much as possible," she says. "It was an awesome place to grow up."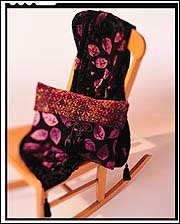 Sherman's mother is Mary Lou Wright, co-owner of The Raven Bookstore. Her father, Jim Sherman, also lives in Lawrence.
She credits her parents with supporting her art habit. She also remembers being challenged and inspired by Pat Nemchock and Marsha Poholsky, her art teachers at Lawrence High School. Nemchock has since retired, and Poholsky teaches at Free State High School.
Sherman experimented with photography in high school and settled on graphic design in college, where she also was exposed to printmaking and textiles. She dabbled in magazine design through KU's journalism school and even studied paint restoration during a summer abroad in Florence, Italy.
Her second job out of college was with North Shore magazine, where she got her first exposure to the fashion world by helping the fashion editor coordinate monthly photo shoots.
Part of what makes her work unique, she says, is her use of vintage fabrics, such as old lace and silk. She also incorporates vintage crazy quilts into some of her handbags. Sometimes the older fabrics attract an older audience, but Sherman also recently sold a hat to an 8-year-old girl. She tries to convince people that velvet is versatile.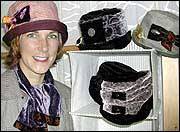 "Velvet's not just dress up," she says. "You can wear it for casual as well and kind of make your outfit a little more funky."
Despite her success, Sherman can't see herself abandoning her day job for her velvet business.
"I have a career that I like in a field I always wanted to be in," she says, "and I get to have my own business, too."