With the ongoing travails of that other Lopez, comedian George Lopez said he felt pretty good about his profile these days.
"I'm getting tired of the other Lopez," he joked, recently dubbed "G. Lo" by the press. "So my stock is going up. There is not so much drama with me."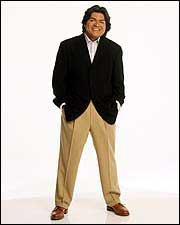 George Lopez's show, "George Lopez," has started its third season on ABC, and the stand-up has been on a comedy tour all summer. He said the live work was a good break from the rigors of weekly TV.
"I spent the whole summer on the road. When we're in production, I don't do it that much. I think the break helps me," he said.
His humor is culled from his own life, especially his youth growing up in the Mission Hills neighborhood of California's San Fernando Valley.
Working his way through the comedy circuit, Lopez has performed on everything from "Good Morning America" to last month's Emmy Awards show.
Along the way, the Mexican-American star became the first Hispanic to headline an English-language morning radio show in Los Angeles -- the nation's top radio market.
But it wasn't until film actress Sandra Bullock came to one of his shows three years ago that his dreams really started to take off. Like many comics, Lopez had been looking to create a TV show. But he couldn't find anyone interested in his vision.
"I couldn't get a commercial agent. It just tells you how closed off Hollywood is," Lopez said.
"I was out there for years doing the same material. Important people saw me and didn't take an interest. Sandra Bullock -- who I knew only from her movies -- saw me and thought I had a show in me."
And Lopez's show looks secure. After a short four-episode first season, the show went on to a full, successful second season. It has consistently built its fan base, growing past 10 million viewers each week, according to Nielsen ratings.
ABC moved the comedy to 7 p.m. Fridays, using the show to anchor the network's new family-friendly slate.
On the show, Lopez plays an assembly-line worker who has been promoted to manager at a Los Angeles airplane-parts factory. The extended-family comedy revolves around the character and his wife, children and overbearing, live-in mother.
"It's real to life and real to my life," he said.